Next up in our 'Selfie' series is a genuine club stalwart, indeed a SFC Life Member, that began playing for the Strathmore Football Club in 1990! After some 25 Years, over 400 games, EDFL representation, a 100 goal season as an U16 and no less than 3 Junior, 3 Senior Reserve and 4 Senior A Grade Premierships he has decided to hang up his boots. The crazy thing is, he wasn't even going to play after Under 12s!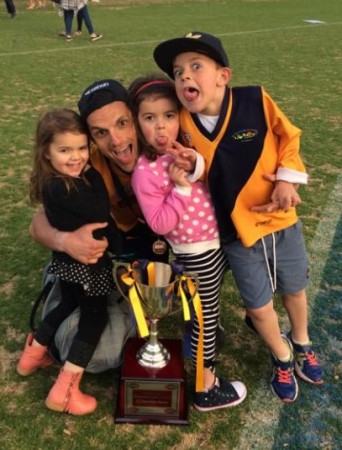 Nick Mazzeo
Giovanni (Nick) Mazzeo, known simply around the traps as 'Maz' has spent more than two-thirds of his life at SFC. The 37yo National Service Manager for Imagetec Solutions (an Office Technology Solutions company) has decided to retire after hoisting his 4th A Grade Premiership in 2014. Fittingly, he describes sharing last year's Premiership with his three beautiful children, Maximus, Allegra & Alessia as his career highlight. This in a career that had plenty – but one that nearly didn't happen.
"I started my career at St Francis De Sales which only had teams up to under 12's. I wasn't going to play after I finished under 12's. The following year I received a call and was asked to come to Strathmore and as they say, the rest is history. In the end Strathmore picked me instead of me picking Strathmore."
Not sure who it was that coaxed Maz to the club (he credits Messrs Large and Elvery), but we're pretty thankful. Watching Number 18 with his signature runs off half back have been as great to watch as his pin point passing. And while he looks a natural defender, he played his junior football as a forward wearing the Number 13 guernsey and had the rare distinction of kicking 100 Goals in the Under 16s A Grade Premiership year!
Speaking of rare distinctions, try these on for size:
Strathmore Football Club Life Member (Awarded in 2013)
2005, 2006, 2011, 2014 – A Grade Premierships
1996, 1997, 1998 – A Reserve Premierships
1995 – Under 18s A Grade Premiership
1993 – Under 16s A Grade Premiership
1991 – Under 14s A Grade Premiership
100 Goals – 1993 Under 16s A Grade
EDFL Representative
It is quite a package and it speaks volumes about Maz that the one that sticks out is the last one that he shared with the kids – hence the photo.
Over 25 Years, I suspect Maz would have had a number of coaches. I asked him for the most notable. "I think it's unfair to single out 1 coach in particular as they all taught me life/football/team skills that I've been able to apply through my journey and know I look to instil in my beautiful children. I hope I don't forget any of the coaches; Brian Elvery, Ken Pridham, Gill Huckstepp, Pat Mackey, Peter O'Connor, Ian Aitken, Marty Allison, Craig Hille, Jeremy Barnard, Digby Morrell & Craig Clinnick."
As an aside, I particularly like how Maz identified the influence these men had on his life outside of football which is often a forgotten aspect and feature of the better football coaches.
To the mad minute:
Favourite movie: Bad Boys
Favourite drink: Sapporo
Coaches pet: 100% Ash Arrowsmith
Funniest team-mate: Trent Ogston
Tightest team mate(s): Dale May & John Tate
Which team mate spends the longest in front of a mirror: Sammy Young, Dale May and (Of course) Matthew Knight
Best player played with: Too hard to answer, played with some amazing team mates. (Ed note: Too diplomatic this guy!)
On behalf of the Strathmore Football Club, we wish Maz all the best in retirement and look forward to seeing him around the club for many years to come.