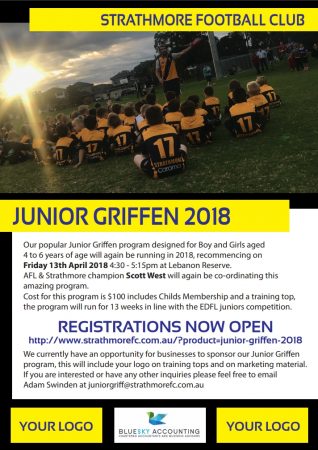 Co-Ordinator: – Adam Swinden 0403 045 373. Email: juniorgriff@strathmorefc.com.au
Online registrations for 2018 are now closed.
Also, be sure to sign up for the Official SFC Newsletter, The Griff. Link below

---
In an effort to facilitate as many children as possible enjoying a controlled football training solution, expressions of interest are sought for the Junior Griffen program. Designed for 5 to 7 year olds, training to be held on a Friday afternoon at Lebanon Reserve from 4.30pm (at the same time as the U10s). Training will be consistent with the U10's style program, modified wher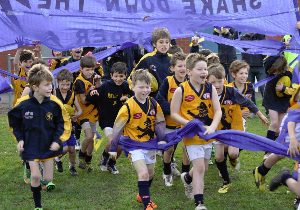 e appropriate and in a controlled environment.
Our aim is to provide every Junior Griffen a chance to participate, have fun, learn some new skills, especially those that miss out playing this year in the U10's due to numbers and possibly siblings of those already involved at the club. We also anticipate having a game played at half time of most Seniorhome games on the Saturday afternoon (TBC). There will be a small cost involved to participate in the program. Please email the club Junior Coaching And Player Development Officer, Scott West on scottwestls@yahoo.com.au with an expression of your interest.
---
Some great shots from a recent training session:
---
The Junior Griffen's played their first practice match during the Premier Seniors half time break on Saturday. We think they enjoyed themselves!