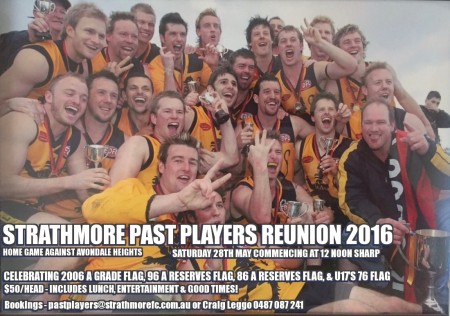 ---
Life Members Lunch 2015
We welcomed forty life members,and family and friends to our clubrooms last Saturday. Welcomed Richard Little and Nick Mazzeo,they were inducted two years ago but both were still playing last year.Both retired last year after playing in four "A" grade premiership teams in 2005/6 -2011and 2014.Richard was captain in 2005 and2006,co-captain with Dale May in 2011 and in 2014 was just a player.Nick was our chatterbox half back flanker in all flags,Nick is the last junior player to kick a hundred goals in a season.
On a sad note,we lost one of our life members during the year,Ron Middleton who was president from 1974-1980.Tony Smith spoke about Ron's involvement in the club.to read Tony's talk on Ron go to our web site.
Hedley O'Brien who turned 96 this year,unfortunately has been in hospital for a few weeks and could not attend,but son Graeme was in attendance and said how disappointed he was in not attending,all the best Hedley hope to see you next year.
Allan Muir,92 years young,had a fall at his aged care facility,and at the moment is confined to a wheel chair,but with help from son's Greg and Mark he attended and can't wait for next year.
Two new life members where inducted first was John Toniolo who was nominated by Michael Horne,Michael spoke of John's early involvement as a junior coach,coaching the u/14″A" in 2001 and u/16 in 2004 to premierships,he also joined the committee in his early day's and is currently our senior Vice President.congratulations John.
Next was Jason Cuthbertson(son of life member Bruce Cuthbertson).Jason was nominated by Anthony Leydin,Peter"Georgie"Owens spoke about Jason's involvement at the football club.Jason played all his football at Strathmore starting in the u-9s in the late seventies and then playing in the "A" grade premiership in 1989.George spoke of Jason's love of football trips one especially in Bali,Jason was also "A" grade runner on four occasions and has been a great supporter of the Strathmore football club over many years.congratulations Jason.
Three present day footballers who are out injured,asked if they could attend,no problems, so Alex Grima,Matthew Knight and Mitchell Purcell joined the throng, hope they enjoyed themselves and spoke to some of our early life members on what football life was like in the early days.
Great to see the old timers-Tom Cook,Col Morrison,Allan Muir,Jeff Nickson,John Ryan,Tony Smith and Bill Wilkinson all life members from the seventies in attendance.
Partners and family members who attended-
Wendy Cuthbertson (husband Bruce), Wendy Cuthell (Mum Val), Margaret Hamilton (husband Robin), Ian McGain (father Syd), John Millman (mother Jean), Coral Murdoch (husband Alby), Graeme O'Brien (dad Hedley and mum Dot), Judy Selvaggi (husband John).
On a personal note for me, great to see Gilbert Nickson(brother of Jeff).we had a great chat about the Athelstone trips to Adelaide in the very early seventies and the trouble him and "Moose" an "Athelstone legend" got me into,many a fond memory where relived.
Have not mentioned any of the younger life members in this report,your time will come.
Good to see some of our past players from the sixties at the bar after the reunion,Peter Woods and Peter Saville who joined fellow oldies in Ian McGain and John Millman in remembering the GOOD OLD days.
Again reminded all life members, can you put pen to paper and let other people know who you are and your history in making this football club what it is today.
Thanks to all the people who helped organised the day.
Ken Pridham
---
Vale Ron Middleton, President 1974-80
Ron Middleton passed away recently, this is a transcript of the tribute Tony Smith read at the Life Members Reuinion
Ron's seven years at the helm consolidated the prior explosion of junior growth and prepared the club to become a competitive force at senior level.As a businessman who we might today call an entrepreneur, he moved the role of president from chairman to leader.
He was also a peerless raconteur, so we should start with a story told many times of how living opposite the ground made him first point of call when his son's team needed a goal umpire and he took to the role rather than anything more challenging.
That was with an Under 13 team coached by Col Morrison which would mark the start of Strathmore as a junior powerhouse, with some still sparse but high quality parental involvement alongside the likes of Hedley O'Brien and Alan Muir.
Ron was soon on the committee, not shy of work taking on roles from ground marking to serving behind the bar, forming critical friendships both in senior ranks and with a new generation of parents attracted to more active involvement as we expanded into junior age groups, none more than Jim Slevison, his long serving vice-pres.
Support from their wives, not just for their husbands' roles but often very vocally for Strathmore teams became even more important, whether helping us deal with tragedy of getting dancers up at the annual ball. Judy Middleton, her next door neighbour Mavis Coulsell, Val Slevison, Margaret Rae and Jane Leeds led the way.
As president, Ron took on being delegate to the EDFL which was one of many roles we needed to remove from future secretaries after that role became too big for volunteers to attempt to emulate Alf Pearce's way during the club's early years. Colin Rae was treasurer before and during the first years of Ron's presidency, the Rae family's broad contribution in those years too often overlooked.
Colin was succeeded by Daryl Carpenter while old player Noel Strawbridge made the secretary's job manageable. Arguably Ron's biggest coup was regaining the services of another from the early days who had gone on to be a key player at Coburg, Brian Elvery, who would captain the club between playing coaches and win a still unmatched four best and fairests.
Ron became president with Ken Pridham having started on the challenge of stabilising our position in "A" Grade, but filling the senior coaching role would continue to be an almost year to year challenge, though the success we would start to see through the '80s built on both the recruiting of well credentialed junior parents into key roles which accelerated under Ron's leadership and our efforts to retain and transition junior players.
We never lacked reminders of Ron and Judy's affection for their holiday house in Shoreham, but that never intruded on Ron's time with footy. He also enjoyed a reputation for liking a flutter and had a reputation for being lucky which might have more reflected his willingness to put his hand in his pocket. The Cricket Club was a year old when Ron became Football Club president and he attended a memorable Cup Eve at The International, buying three late tickets of many hundreds in the cup sweep, then drawing three horses.
Ron had intended to step down a year earlier, but his personal popularity helped ensure that he would continue and set a record it took John Elliott until this year to break and ensure that we had a better succession plan than first envisaged, one that provided Bob Leathers, Peter Owen and a first "A" Grade flag. The club by then demanded a huge volunteer effort and it would be impossible to try to individualise many who responded so well to Ron's leadership and friendship.