2018 Junior Coaches & Co-Ordinators
Girls Football
Girls Co-Ordinator – Paula Cocomello 0478 154 329 Email: girls@strathmorefc.com.au
Coaches:
Girls U18 A's – Glenn Murdoch 0419 876 683
Girls U15 A's – Greg Cook 0417 105 746
Girls U13 A's – Shaun Bannister 0408 037 223
Girls U11 A's – Phil Clough 0448 076 634
Training:
Please ensure you are subscribed to The Griff newsletter (link below) for the latest SFC news.

---
2017
Coaches:
Girls U18 A's – Strathmore/Airport West girls@strathmorefc.com.au
Girls U15 A's – Andrew Whelan 0412 363 488
Girls U12 A's – Travis Fitzpatrick 0425 381 395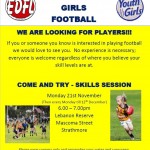 A message from the SFC Junior Girls Coordinator, Paula Cocomello
To past Mores players "Welcome Back" and new players "Welcome". After quite a successful and fun season in 2016, we are excited that 2017 will be even better.
Please find attached information on our up and coming Come and Try Skill Sessions. The first session will be Monday 21st November, and will run every Monday till 12th December.
This is a great Preseason start for the girls who already love football and a great introduction for the girls who just want to give it a go. Please forward or tag anyone you think may be interested.If you would like any additional information please send me an email at girls@strathmorefc.com.au and I will get back to you as soon as possible.
Paula Cocomello
---
2016
Coach:
Gino Liparota – 0412 238 309
Team Manager:
Hayley Koo

Fixtures and Results:
Under 15 Girls