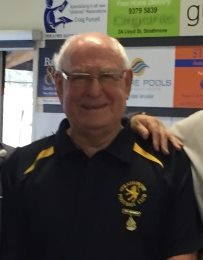 Round 6 Vs Avondale 19/05/18
Due to the Past players reunion no match report only scores.
Seniors v Avondale Heights 14-11=95 d 8–5=53.
Kicked 13 goals to 4 after quarter time.
We are =4th on ladder but 6th on %.
Reserves 9-12=66 d 8-5=53.
With the injury list getting shorter,the reserves fielded a much stronger team this week and got back on the winners list.
4th on ladder
U/19s 17-18=120 d 1-1=7
On top undefeated but next week they play Aberfeldie who are =2nd on the ladder.
MOST IMPORTANT this week our u/19s are playing away at Clifton Park V Aberfeldie at 10-00am, this is first playing = second.
So come along and support our boys before going to Coburg Football Ground to support our Reserves ( noon)and Seniors (2-15pm).
The past players committee arrived at the clubrooms at 10-00am Sharp and we had a first, Diffa arrived before Palms, thanks to Steve Carey for getting all the tables and chairs out,a big thank you to Donna for the decorations and to Fiona for helping Donna to make the clubrooms look fantastic, great thinking by the boys to set a long table in the front to sit the Twenty people who were involved in the 1998 Senior Premiership team, what a great turn out Twenty years later.
We had over a Hundred people attend to what turned out to be a fantastic day. Started out with M C Legs welcoming everyone,John Toniolo gave our PAVERS a strong push and I hope he got through to some of those in the audience, after a half hour catching up with old friends the meal was served and as usual it was first class tucker, well done to the catering staff a big thank you, it was then on to the reminiscing from the people who were in charge of the three Premierships we were celebrating.
First off the 1988 u/18 premieres and to do the reminiscing was Coach Brian Elvery and Gun player Warren Allison they spoke on how the year unfolded how Westmeadows went through the home and away season only for us to beat them twice in the final series, this was Brian's second Premiership in a row.
On to the Reserves 1998 premiers and also celebrating two premierships in a row was Coach Peter O'Connor and his sidekick Shane Gee, they also spoke about their year and how it unfolded,this team was vastly different to last years team being a fair bit younger and as a result the celebrating was not as full on as last year's also winning the premiership on the Saturday they had to wait for the Seniors to win on the Sunday to really let their hair which they did.
On to the Seniors 1998 Premiership team and the two to do the reminiscing were Coach Ian Aitken and the ever reliable Chris Koo, they kept bouncing barbs off each other for the entire reminiscing, we learnt about the song "HURRICANE" and what it meant to the team, unfortunately the two of them had me in fits of laughter I am finding it hard to remember what else they said.
It was probably the best reminiscing we have had.
We had a few more minutes to reminisce before the comedian LAWRENCE Mooney was ready to entertain us, and what a fantastic performance he gave in my opinion the best comedian we have had HANDS DOWN, his impersonation of our PRIME MINISTER was hilarious and he had the crowd in the palm of his hand, l reckon he was also enjoying his performance and he actually went over his allotted time.
LAWRENCE then drew the raffle seven prizes and the Allison's won three of them, for some it was time to sit back and watch the rest of the seniors game,for others it was time to get the camera working and and relive former glorious.
Football finished, time for this old timer to call it a day, but the day was just getting warm, the band started playing, the players and our supporters were starting to warm to the occasion and at Seven o'clock Diffa's pizzas arrived all GARLIC FLAVOURED you've done it again DIFFA.
Thanks to Legs for doing a fantastic job with the booking system of only paying into the bank, great this year to take no money at the door also raffle tickets on the table another winner.
THANKS to all the committee for making the day a great success,to the bar staff" Glenn and his boys " a big thank you, to all those who helped to clean up the clubrooms also a big thank you.
SEE YOU NEXT YEAR TO CELEBRATE THE 1989 "A" GRADE PREMIERSHIP
---
Round 4 @ Marby 05/05/18
Settled down in my chair Saturday morning to watch our u/19s play Maribyrnong Park at their home ground, both sides undefeated and our u/19s have been playing scintillating football for five games. The last four games we have won easily so it will be interesting how we handle the pressure today.
It was a game of two halves for the first time this year our boys were scoreless in the first quarter, they were beating us in the air and also at the stoppages, fourteen points behind at quarter time, second quarter and they kicked two goals in the first five minutes now twenty six points down, we finally settled down and kicked three goals for the quarter they kicked another goal and at halftime still fourteen points behind.
Don't know what the coach said to his boys at halftime BUT it sure worked
We started to win the ball around the stoppages we started to move the ball quickly by hand and foot which created scoring opportunities in our forward line with the result we kicking two goals one behind to their one behind to go in at three quarter time two points behind could we keep up the good work in the final quarter.
The last quarter was a pleasure to watch with two undefeated teams going at it full bore and to our boys credit they kept the opposition scoreless while we kicked one goal four behinds to run out eight point winners
This game again was a great advertisement for Junior football in our area and a pleasure to watch WELL DONE boys.
Scores Strathmore 6-5=41 Maribyrnong Park 5-3=33
Goals Sirko(3)Holian,Reddick,Cuffe ( 1 each )
Best (in no order) Holian,Francis,Fraser,J Ford,L Ford
Reserves- due to our L O N G injury list, our reserves for this game were a mismatch of regular players, some players who hadn't trained or played a game this year and some u/19 players who had just played a game.
Although well beaten our players never gave up trying and gave it their best shot with no game next week hopefully in two weeks time most of our injured players will be back and the reserves can get back on the winners list.
Scores Strathmore 2-6=18 to 16-10=106
Goals Leathers and Elliott one each
Best – Todorov,Leathers,Elliott,Preston,Carland.
Seniors – playing the undefeated top team we took the field determined to give them a contest which we did for three out of the four quarters unfortunately for us they kicked nine goals in the second quarter to put the game out of our reach, I think in the second half they took the foot off the pedal and we were competitive in the last half to salvage some pride.
Hopefully after the break we will get some of our better players back and we will be competitive against the top teams,we have some young talented players in this team they just need a help along the way.
Scores – 9-12=66 to 18-11=119
Goals – A Grima(5)Cachia,Horne,Mitchum,O'Loughlin (1each)
Best – A Grima,Weightman,Allison,Mighell,Currie(u/19 player)
No game next week, next game May 19th at home v Avondale Heights
The past players reunion is also on that day if you would like to attend
AGAIN no money accepted at door if you would like to attend send $50 to Craig Leggo BSB 013 442 ACC 522 668 614.
---
Round 3 Vs Pascoe Vale 23/04/18 
U/19 – What a fantastic game, fast and open play on football at its best, running past at every opportunity and beautiful delivery of the ball made it a delight to watch the. We kicked five goals in the first three quarters and finished off with seven in the last quarter to run out easy winners.
Scores 22-15=147 to 0-2=02
Goals – Sirko(5)Dukic(4)Currie(4)Reddick(4)Jury(3)Holian(1)Markey(1)
Best – Currie,Jury,Holian,Sirko,Reddick
Reserves – Another great game scores close all day, level at three quarter time
Our fitness held out and we ran out thirteen point winners another great win to our boys.Well done to the u/19s who helped out due to reserves being short.
GoalsDwyer(3)Bradley(2)Leathers(2)Holian,McConville,Manzie,Butcher(all 1)
Best- Todorov,Pignolet,Bradley,Dwyer,Carland.
Seniors- Sorry nothing positive to write about the seniors,very disappointing
Goals – Grima(3)Mighell,Lower,O'Leary,O'Loughlan(all 1)
DONT FORGET ANZAC DAY at GLENROY on WEDNESDAY.
No u/19s RESERVES at NOON,SENIORS at 2-15pm
Come along and support the MIGHTY MORES
---
Round 2 Vs Greenvale 14/04/18 
Arrived at Lebanon Park, quarter time of the under 19s, dressed like i was going to the Antarctic. A strong wind was blowing towards the clubrooms end and at times the rain and hailstones were also coming down horizontal favouriting the clubrooms end. Sat down in my seat, pulled the hood of my coat over my head, umbrella at the ready, and watched our u/19s give the opposition a football lesson, we continued on from our first game, playing fast open football, strong overhead marking, quick handball to a teammate running past and excellent delivery of the ball to a teammate further up the field made it a pleasure to watch, we led at every change running out winners by 99 points.
Scores- 19-8=122 to 3-5=23
Goals – Jury(4) Figliola,Dukic,Baker-West,Holian,Currie,Chaloub ( Two each )Sirko,Young,Francis (one each )
Best- Baker-West,Figliola,Jury,Holian,Francis
Reserves- the reserves copped the worst of the conditions in the third quarter was helping Condo and Toners put the chairs on the hill away we got the hailstorm that was coming in sideways, We all got drowned, got back to my seat it was full of hailstones, clothes wet through so I went home and got changed into a dry set of clothes. BACK to the football.
We kicked with the aid of the strong wind and kicked a goal in the first minute BUT like a good team (they haven't lost a game in two years) they bottled the ball up in the non scoring side of the ground and that was our only goal for the quarter, unfortunately our backline did not learn from their defensive tactics and in the second quarter we defended to the attacking side of the ground
resulting in them kicking TWO goals. Third quarter and due to the rain and hailstones belting down the wind also died down, this quarter was the same as the first quarter they defended to the road side all quarter restricting us to ONE goal, so we went into the last quarter with a eight point lead.
Last quarter backs to the wall could we defend our lead,WE sure did while we did not score, we learnt from the second quarter, defended to the road side all quarter and kept them to three points, five points up five minutes to go could we hang on, i am sure the players could not hear us BUT myself and the coaching staff were screaming out keep it on the roadside of the ground which we did for the longest five minutes in our lives and we ran out five point winners. Congratulations boys well played.
Scores – 2-11=23 to 2-6=18
Goals – Manzie, McConville (1each)
Best – Vavra,Todorov,Dwyer,Rule,Elliott.
Seniors- We were full of confidence after our strong win in the first game BUT the conditions did not suit our small quick skilled team, after two games the centre square did not allow us to play our running game and in the centre square it was more like rugby which suited their bigger bodied players better than us, and as they say in sport a taller bigger bodied skilled team will in most games beat a smaller skilled team and that is what happened today.
First quarter kicking with the wind we had thirteen scoring shots for a poor return of five goals and eight points this was due mainly to us not having a big strong overhead mark near goals and most of our behinds were rushed after the ball hit the ground.Scores 5-8=38 to 1-1=7
Second quarter they kicked seven goals from nine scoring shots due to their tall forwards strong marking and we failed to score. Scores 5-8=38 to 8-3=51
Thirteen points down and we have had two more scoring shots.
This is my third year writing these match reports and against this opposition the third quarter is always the same, they blow us out of the water and put the game out of our reach, this year no different we are kicking with a strong wind and we're out scored three goals to two. Scores 7-12=54 to 11-3=69 ( five more scoring shots)
Last quarter could we salvage some PRIDE to some extent which we did keeping them to two goals while we kicked one, our endeavour in this game never varied, we had a red hot dip all day, putting our bodies on the line BUT unlike last game our smaller quick players had no influence on the result and while lowering our colours I was happy with our game. Final Scores
8-14=62 to 13-8=86 for a twenty four point defeat.
Goals- Mighell(2) Foulds(2) O'Brien,Tsialtas,Allison,O'Loughlan(1 each)
Best(in no order) Horne,O'Brien,Jarrad,Allison,Mighell.
Next week ANOTHER HOME GAME v Pascoe Vale, u/19 9-30am, Reserves Noon Seniors 2-30pm See you there go the MIGHTY MORES
---
30/03/18 @ Keilor 
Welcome to season 2018, the GOLD and BLUE colours running through our blood again WHAT a feeling.
Made our way down the Calder freeway to take on KEILOR for the annual Good Friday game, the weather was magnificent, ground in excellent condition and what to follow was three great games of football.
U/19.5 – what a great advertisement this game was for local football, it had everything, great skills from both teams, the quick movement of the ball was great to see, arial skills, pace to burn, both sides hard at the ball, their was a few altercations and both teams flew the flag.
We led at every change and ran out eighteen point winners
Scores – Strathmore 9-11=65 Keilor 7-5=47
Best – Jury,Baker-West, Currie, Holian, Butcher, Mann
Goals – Holian(2) Sirko(2) Duggan Chaloub Pannunzio Saraya Currie (1 each)
Reserves – unfortunately the reserves ran into a older,more experienced and bigger bodied team, they out scored us by three goals in the first quarter
, after the first quarter we settled down and for the next three quarters we held our own going down by 33 points, I am sure the reserves will learn from this game and will be competitive for the remaining of the year.
Scores – Strathmore 7-12=54 lost Keilor 12-15=87
Best – Foulds,Vavra,Cooke,Rule,Carland,Todorov.
Goals – Todorov(2) Rule (2) Manzie,Dwyer,Holian (1each)
Seniors – The game was played at a frantic pace with both teams hard at the ball and not giving an inch,in the first half two of our bad habits from last year came back to haunt us, our poor conversion rate in front of goals (3-9 to halftime) and poor delivery of the ball around the ground and while being nineteen points down at halftime, I felt we were still in the contest,
Do not know what words of wisdom our coach told the team at halftime but we came out and made the second half of the game OURS. Our conversion rate (9-5 after halftime) was a vast improvement on our first half, our pace and movement of the ball improved as did our field kicking and we ran over the top of Keilor to run out TWELVE point winners(seven more scoring shots),to finish off a great day, as they say "two wins out of three ain't bad"
Scores – Strathmore 12-14=86 def Keilor 11-8=74
Best – in no order – Jarrad, McIntosh, Halliwell, Morey, Iacobucci, Ingleton
Goals- Grima(3)O'Leary(2)Weightman(2)O'Loughlin(2)Condon(2)Tsialtas(1)
No football for the MORES next week, next game 14th April V Greenvale at home.
---
03/09/17 V Elimination Final Vs Marby @ Windy Hill

Strathmore again made 5 changes to the last games side but included some experience in Hamish McIntosh, Alex Grima, Michael Firrito, Adam Iacobucci and for a his First Senior Final Under 17 Ben Reddick. We started the game well kicking 3 early goals, but let Maribyrnong Park in for some late goals. An 11 point lead at Quarter time.
The second quarter started slow with both sides unable to score goals, MP finished with a flurry of goals to hold a 14 point lead at half time. Their height around the edges was hurting us as they continually out marked our smaller wings and half forwards.
In the 3rd Quarter both sides again peppered the goals without much reward, again MP's height was hurting us with height. 9 points down at 3/4 time.
In the last quarter we tried to come back at them, we would get close and they would kick another goal, we just could not get that extra goal to get in front. In the final minutes of the game MP kicked some easy goals as we went all out attack and were susceptible to turnovers. Down by 27 points.
Goals: Matt Little (4), Alex Grima (3), Adam Iacobucci, (2) and Jaryd Cachia (1)
Best: Matt Little, Mitchell Purcell, Jaryd Cachia, Josh Helliwell and Xavier Allison.
---
27/08/17 V West Coburg

Final home and away game for the season we are playing West Coburg at home.
U/19s must defeat West Coburg who are third on the ladder and hope Maribrynong Park defeat Aberfeldie and we will play finals, arrived at halftime and we were 7 points down so we are in with a chance unfortunately not to be. West Coburg kicked thirteen goals to our three in the second half to end our chances and we finished fifth on the ladder.
Scores 7-9=51 to 18-12=120.
With another six forced changes in the Seniors the Reserves fielded possible their weakest team for the year and went down 5-12=42 to 10-7=67 to finish fifth on the ladder.
For possibly the fifth week in a row we made another six changes to the team, hopefully we can put in a good performance and get our revenge against West Coburg who beat us in the first round at their ground, hopefully we can take a positive attitude onto the ground and show our supporters we are a genuine chance for the premiership
The first half was a scrappy affair and we went in at halftime with a four goal lead, in the second half we lifted our work rate especially around the stoppages, our tackles began to stick and our endeavour for the ball was terrific with the result we ran out good winners 13-15=93 to 5-10=40 to finish fourth on the ladder.
Best Little, Purcell, Cachia, Mighell and Foulds.
Goals Little(8) Foulds(3) Horne and Knight (1 each)
Next week First Semi Final V Maribyrnong Park
Where Windy Hill ( Essendon Football Ground) Napier Street Essendon
When. Sunday September 3rd
Time. 2-15pm
See you there to support the MIGHTY MORES
---
20/08/17 @ Pascoe Vale

We played Pascoe Vale on Saturday at their home ground, a must win for the u/19, the Reserves and Seniors games have no bearing on our positions on the ladder.
U/19 won their game 8-15=63 to 7-10=52 to keep their finals hopes alive.
It all comes down to next Saturday's results.
We play West Coburg at home, we are fifth, they are third, so we must win and hope
Aberfeldie who are fourth and playing at home are defeated by the Top team Maribyrnong Park. All the best to Mick and the players.
Reserves returned to the winners list defeating Pacco 10-5=65 to 8-7=55 to remain fifth on the ladder and unfortunately miss out on the finals.
Seniors for the third or fourth week in a row made six changes to the team due to many factors and with our spot in finals secured the game was of no importance so it no surprise to see us get beaten.Scores 11-9=75 to 13-11=89.
Next week West Coburg at home and remembering they beat us the last time we meet, we are out for revenge, so hopefully we can field a strong team and get ready for the finals the following week,
See you at Home next week, 9-30am to support the U/19, 11-45am Reserves, 2-15pm Seniors, Go the MIGHTY MORES
---
13/08/17 @ Aberfeldie

All our Saturday teams played Aberfeldie and with disastrous results all being defeated
The Thirds played Aberfeldie in the first semifinal at Westmeadows on Saturday morning and went down 5-3=33 to 12-14=86. Due to the numerous injuries in the higher teams our Third team who were well coached by Micky Devers had the misfortune to field a depleted team in the last three to four matches of the season and consequently finished fourth for the season, I am sure the committee and all our supporters are proud of their efforts over the year.
U/19s lowered their colours to Aberfeldie with the result they took our place in the four
Scores 5-7=37 to 11-9=75 BUT we can still get back in the four, first we have to beat Pacco next week and hope West Coburg defeat Abers if that happens, it will come down to the last game to see who will participate in the finals.
Reserves went down to Abers 6-7=43 to 21-9=135 to see us drop to sixth on the ladder, two games plus percentage behind the fourth team, we have to win both of our games by BIG margins and hope other results go our way to play in the finals.
With the "A" final four already decided this was going to be a lack lustre affair with our senior team going down 7-12=54 to 13-20=98, now we can concentrate on Pascoe Vale next and get back on track for the finals.
Next Week Pascoe Vale away u/19s at 9-30am, Reserves 11-45am, Seniors 2-15pm
Come along and support the MIGHTY MORES
---

05/08/17 Vs Ess Doutta Stars
Due to injuries and work duties six changes this week, four good ins McIntosh, Cachia, Knight and Barnard plus two youngsters in Leathers and Todorov.
Due to these six being unavailable and other circumstances, the Third senior team had to forfeit their game, luckily they are safely in the four and will play finals. Next Saturday they play Aberfeldie but have no details on where or when, will email details when I have them.
U/19s had four of their good players in the Senior team and without them they were defeated 5-10=40 to 11-20=86. We are fourth on the ladder.
The Reserves where also depleted and went down by eight points
Scores 7-10=52 to 8-12=60. We are fifth on the ladder.
The seniors are sitting third on the ladder and WIN or LOSE today our position on the ladder cannot change, so a lack lustre game was expected.
We kicked to the clubrooms end favoured by a possible three to four goal wind, we were straight into attack kicking three goals quick smart but then the opposition bottled the ball in the dead pocket, went in at quarter time leading
3-4=22 to 0-1=1 but with them having the wind in the next quarter, ALL EVEN
This quarter was one of the best quarters we have played all year,with fast play on football we scored three goals into the wind to their one goal with the wind,
a fantastic quarter and a pleasure to watch.
Scores 6-6=42 to 1-6=12
With the wind at our backs, what a quarter we played, FOURTEEN shots for goal resulting in EIGHT goals SIX behinds and keeping them to one behind we went in at three quarter time leading by FOURTEEN goals.
Scores 14-12=96 to 1-7=13
With percentage being of no importance, we took the foot of the pedal, resulting in them kicking ten goals in this quarter but the game was well and truly over at three quarter time and we cruised to a twenty seven points win.
Scores 15-14=104 to 11-11=77
Best- Allison, Baniowski, Cachia, Currie, Lower, Barnard.
Goals- Knight,A Grima, Currie, Weightman, McIntosh,Foulds (all two each)
– Leathers, Todorov, Purcell (all one each)
Next week Aberfeldie away, they are Second we are Third, Win,Lose or Draw positions cannot change, so possibly another lack lustre game.
BUT There will be plenty of interest in the u/19s and Reserves with a WIN a MUST for both teams, so get down to Clifton Park early u/19s at 9-30 am, Reserves at 11-45am.
---
29/07/17 @ Craigieburn
The day started off with the u19s having a BYE.
Thirds had a win over Northern Saints 7-11=53 to 1-4=10 fourth on ladder
Arrived at Craigieburn to watch the Reserves unfortunately Craigieburn reserves could not field a team, a walkover leaving us fifth on the ladder.
Five changes to the side with Little, Bramley and Dwyer in from the Reserves, congratulations to Lachlan Currie from the u/19s in for his FIRST game senior game and Ben Reddick from the u17s, the five out were being managed for injuries.
Craigieburn kicked to the end favoured by strong cross wind which was worth four or five goals they kicked a goal in the first minute and while we had more scoring shots went in at quarter time fourteen points down 0-5=5 to 3-1=19
Our turn with the wind and like the first quarter they kicked the first goal could this the result we didn't want but like a good team we answered the challenge kicking the next five goals to go in at halftime thirteen points in front 5-9=39 to 4-2=26
Third quarter much like the first, we both had four shots for goal, they kicked two goals two behinds to our four behinds, we have had eighteen scoring shots to their ten, maybe they can read the wind better than us and we only led by three points going into the last quarter 5-13=43 to 6-4=40
After a sluggish start to the quarter, we finally kicked away and got the win we wanted, again sloppy kicking for goal, thirteen scoring shots for six goals and seven behinds while the opposition kicked one goal, winning by forty points 11-20=86 to 7-4=46
Two quarters of kicking into the wind we had nine shots for nine behinds, their two quarters, three shots for two goals one behind. maybe they were used to the strong crosswind more than us. We are third on the ladder.
Best in no order- Lower, Weightman, Reddick,Currie, Purcell, Dwyer.
Goals- Lower(3) Weightman(2) Little(2) Reddick, Jarrad, Purcell, Foulds ( one each)
Next week – thirds are playing Greenvale away on oval two( not the main oval)
11-00am start
U/19s – 9-30am start
Res – 11-45am start
Seniors – 2-15 pm start – all playing Doutta at home.
See you all next week to cheer home the MIGHTY MORES
---
22/07/17 Vs Avondale
While the reunion was running we did play four games of football only scores and information from the internet.
Open age threes defeated Keilor 10-9=69 to 3-5=23 we are fourth on ladder
Next week play Northern Saints at home 11-00am start.
U19 played the undefeated top team Marib Park lost but not disgraced
Scores us 4-3=27 to 10-11=71 fourth on ladder They have BYE this week.
Reserves lost us 6-7=43 to Avondale Heights 6-9=45 Fifth on ladder
Play Craigieburn away next Saturday 11-45am start.
Seniors – Ins – T Grima, Iacobucci, Baniowski, Weightman(from u/19)
Out – Knight,O'Loughlan(both injured) Bradley, Reddick( back to u/19).
Playing Avondale Heights at home it is a must WIN for us or our win's against quality opposition in the last three games counts for nothing, they have won five out of their last six games, but were well beaten at home last week by Aberfeldie.
The conditions were a FREEZING strong cold wind favouring the clubroom end, caught glimpses of the game through the window, they kicked to the end favoured by the wind, we started strong and kicked the first goal, with the aid of the strong wind they kicked the next two goals to go in leading by eight points at quarter time
Scores us 1-1=7 to 2-3=15
Second quarter we took advantage of the wind kicking four goals to their one.
Half time scores us 5-7=37 to 3-3=21
The half time entertainment of the NELSON TWINS went longer than expected missing all of the third quarter but pleased to report kept them to one goal and while we we're kept goalless we went in at three quarter time with a eleven point lead
With the help of the strong wind we kicked five goals to two in the last quarter to win by thirty two points and cement our position in the four.
Scores us 10-12=72 to 6-4=40 we are third on the ladder
Best- Barnard Cachia Horne Firrito Allison Weightman
Goals – Weightman(2) Foulds(2) Cachia(2) Holian, Gleeson, Barnard, Lower (1 each)
Next Saturday v Craigieburn away 2-15pm start
See you there. go the MIGHTY MORES
---
15/07/17 (Senior Bye Round)
Ventured down to Lebanon Reserve to watch our third open age team play, coming off a disappointing draw last week, we needed to stamp our authority today with a solid win against a side struggling to win a game against good opposition.
We were bolstered today with the inclusion of some u/19 players and didn't they deliver and we ran out winners by 109 points.
Not knowing most of the players this report is from memory, no written notes.
We kicked with the aid of a possible three to four goal wind advantage, we were winning well at the centre bounce and with good creative handball we bombarded the goals kicking five goals from eleven scoring shots on the only occasion the went forward, they kicked a goal. Scores 5-6=36 to 1-0=6
Kicking into the wind we ran the ball and Cavanagh took some excellent overhead marks but poor kicking for goal undid some of his good work,Adam Figliola was also prominent in the forward line, our onballers were still giving us first use of the ball, our backline (sorry no names) held firm and kept them to one goal.
Scores 10-10=70 to 2-0=12
This quarter was a repeat of the first half, with us kicking five goals while keeping them goalless, unfortunately in this quarter a clash of heads between two of their players left one of them being declared clinically dead, thanks to the fantastic work of their medical staff and help from paramedics and ambulance staff he was able to be resuscitated and hopefully he is alright.
Scores 15-14=104 to 2-0=12
Last quarter and to their credit the fought the game right out with us kicking another five goals ( we kicked five goals in every quarter) they kicked two goals
Final score 20-14=134 to 4-1=25.
Goals – A Figliola(6) Cavanagh(3) Challis (2) Crocker (2) Preston(2) Ball(1) Hughes(1)
Moro(1) Rugolino(1) (17 could not decipher his name on team sheet) (1)
Best (in no order) – Cavanagh, Crocker, A Figliolo, F Figliolo, Hughes, Moro( dad would kill me if I didn't mention you), (17) could not decipher name on team sheet, if I have missed anyone in the best players sorry maybe next time.
Margaret and I sat in our usual spots to barrack and cheer the Gold and Blue colours to victory,thanks to Carol Knights for the information about the team and to Steven Knights for cooking the B B Q.
Next Saturday the thirds play Keillor at home 11-00am start we are fourth on the ladder they are sixth, ten points behind us so a win is of the utmost importance, all the best for next week.
Next Saturday at home our u/19,Reserves and Seniors play Avondale Heights,
They are below us on the ladder so it is important that we do not drop our guard or last weeks win means nothing, it is also our Past players and Supporters reunion don't forget NOON start see you there. Thanks
---
Round 12 @ Keilor 08/07/17
IMPORTANT Next Saturday 15th of July our THIRD open age team are the only STRATHMORE team playing, they are playing Roxburgh Park at HOME at 11-00am.
Here is the opportunity for all STRATHMORE supporters to come down and give our THIRD team some well earned encouragement, we are sitting fourth on the ladder they are seventh so a win is very important, i am sure Mick Devers and the team and officials will welcome you with open arms.
IF YOU ARE A PASSIONATE STRATHMORE SUPPORTER YOU WILL BE THERE.
Now on to Saturday's games.
Thirds played Maribyrnong Park and the game finished in a draw
Scores 8-5=53 to 7-11=53 we are fourth on the ladder
U/19 unfortunately ran into a red hot Keilor team and although we tried all day we were overpowered. Scores 8-5=53 to 20-14=134 we are third on ladder.
Reserves were again weakened by injuries and although giving their all, were defeated but not disgraced Scores 9-6=60 to 12-9=81 we are fifth on ladder.
Seniors were facing Keilor in a EIGHT point game, a win puts us two games plus percentage ahead of the opposition a loss only ahead on percentage.
It was a close game for three quarters with them leading by eight points at quarter time and us leading by nine points at halftime and three quarter time.
In the last quarter every player lifted with us kicking four goals and keeping them goalless to run out thirty three point winners, last week we had ten different goal kickers this week due to an amazing eight goals to Alex Grima, four to Knights, three to Gleeson, two to Nugget and one to Cachia only five goal kickers, today we were strong all over the ground Mighell and Halliwell were good in defence, our onballers were first in for the hard ball and then the Amazing Alex Grima finished it all off with eight goals well assisted by Knighta, Gleeson and Nugget Foulds in the forward line.
Scores 18-10=118 to 12-13=85 We are still fourth on the ladder, but we are now two games plus percentage ahead of the fifth team, the aim now is to stay there and play in the finals.
Best(in no order) A Grima, Mighell, Cachia, Halliwell, Knights, Gleeson.
Goals A Grima(8),Knights(4), Gleeson(3), Foulds(2), Gleeson(1)
Our senior, reserves and u/19 do not play next Saturday, our next game is on 22nd of July v Avondale Heights at HOME, BUT don't forget next Saturday 15th July our THIRD open age team are playing Roxburgh Park at HOME 11-00am start, so come down and cheer on the MIGHTY MORES.
---
Round 11 Vs Greenvale 01/07/17
Saturday was a good day but also a poor day for the Strathmore Football Club.
Good in that our senior team defeated the ladder leaders in Greenvale BUT a poor day in that our A three team had to forfeit their game due to lack of players, hopefully we can fix the problem before next Saturday's game.
The A three's are still fourth on the ladder, next Saturday we play the second placed team on the ladder at HOME starting at 11-00 am, if you are in the area drop in and support our Third open age side.
Got to the ground at halftime of the u/18 ( hope you are reading this Mick T) with the u/18 holding a five point lead, we kicked three goals in the third quarter
and held that advantage in the final quarter to win by twenty two points.
Scores 11-11=77 to 8-7=55, we are fourth on the ladder next week we play Keillor who are second, so should be a good game of football.
Reserves played the undefeated top team and while our boys tried their hearts out they were no match for Greenvale and went down by over ten goals, injuries to some of our senior players and also FRIDGE have weakened the teams ability to play good football, we still sit forth on the ladder and like the u/18 play Keillor who are third, hopefully we will get some of our quality players back and make it a good game.Scores 5-5=35 to 16-12=108.
Our senior team took on the ladder leaders in Greenvale, we kicked to the clubrooms end with the a possible two goal advantage, strange as it seems the team kicking to that end was out scored in every quarter, we peppered the goals all quarter BUT had the wrong kicking boots on and kicked one goal and six behinds to trail by one point. Scores 1-6=12 to 2-1=13.
Had the right kicking boots on this quarter kicking three goals one behind and restricting them to one goal, some of our younger players stood up this quarter with Butler,Allison and Holian putting their bodies in and winning the hard ball,Mighell was prominent taking some telling marks and playing on and driving the ball deep into our forward line.Scores 4-7=31 to 3-3=21
When we played them at their ground earlier in the year we went in at halftime a couple of goals in front BUT in the first five minutes of the third quarter they came out and kicked the first five goals of that quarter and took the game of us. Could it happen again, they came out and kicked a goal in thirty seconds BUT this time we stood firm and with Barnard and Stapleton competing at every stoppage and with Horne, Cachia and Lower winning the crumbs we held our advantage at three quarter time.Scores 6-10=46 to 5-3=33.
Thirteen points up could we hold on NOT only did we hold on we kicked five goals to their four to win by nineteen points, Purcell was playing great football on his side of the ground ,our small running forwards in Knight, A Grima and Staudt were not only kicking goals but more importantly they kept the ball in our forward line for a long time, not to forget our backline, well led by Helliwell, Jarrad,Foulds and Firrito who kept their forwards to a losing score.
Final score 11-13=79 to 9-6=60
BEST – This was a great team effort but in no order Purcell, Butler, Allison, Barnard and Horne.
Goals – we kicked eleven goals and had ten different goal kickers, great to see Fittito drifting down and kick two goals.
Overall a great win but it counts for nothing if we lose to Keillor next week this is a eight point ball game,so come on down to Keilor's home ground next Saturday u/19 – 9-30. Res 11-45 Seniors 2-15pm and support the
MIGHTY MORES.
---
Round 10 @ Marby 24/06/17
Due to a family function on Saturday no Match report only Scores.
A threes v Northern Saints, us 14-12=96 to 3-4=22 Third on ladder
U/19 v Doutta Stars, us 11-10=76 to 4-10=34 Fourth on ladder
Res v M/Park, us 9-12=66 to 5-12=42 Second on ladder
Seniors V M/Park they are third on the ladder we are fourth so a win today is a must, quarter by quarter scores, it must have been a great game,
Quarter time we were two points up, half time we were one point up, three quarter time they were three points up at the end of the game we were victorious by five points to keep our finals hopes alive.Score 10-15=75 to 10-11=71
Next Saturday at HOME we play GREENVALE who are on top of the ladder, we are still fourth on the ladder but only by percentage from Keilor.
So come on down and support the MIGHTY MORES
---
Round 9 @ West Coburg 17/06/17
After all teams had won their last five games.arrived at Shore Reserve to take on West Coburg full of confidence to keep the winning streak going BUT unfortunately they had other ideas and inflicted defeats on the u/19 and the senior team, with the Reserves the only winning team on the Saturday.
Our third open age side lowered their colours to Aberfeldie by ten points
7-6=48 lost 8-10=58 sit fourth on the ladder.
U/19 – second on the ladder, they were third so a good close game was anticipated, unfortunately bad kicking for goal and a solid effort from them saw us go down by twenty points 8-15=63 lost 12-11=83 sit fourth on the ladder.
Reserves were the only positive result for the day winning by seventeen goals, they were in control all day and played good fast attacking football
20-12=132 won 4-3=27 sit third on the ladder.
Our senior team were very disappointing and in the end went down by seven points after five fantastic weeks of football "maybe" we thought it would just happen, unfortunately the opposition came to play and we were caught napping,
12-18=90 lost 14-13=97 sit fourth on the ladder on percentage.
Next Saturday we play Maribyrnong Park away they are third we are fourth so it should be a great game.
---
Round 8 V Pacco 03/06/17
Another great day on Saturday, got to the clubrooms early to notice Steve Carey had all the tables and chairs ready for setting up,Donna had bought the desserts and all the little knickknacks we needed to set up the tables, Margaret Hamilton helped Donna in her preparation of the day, thanks to Tom Whitehouse for picking up the balloons.
We had thirty five life members present and with family and friends all up we had sixty people attend the reunion.
At the door welcoming our life members and their family and friends, great to see Judy Selvaggi wife of the late John Selvaggi, Judy has not been in the best of health lately, great to see her happy and having good day,except for the occasional aches and pains everybody was in good spirits.
Kicked off the reunion with John Toniolo out lining our latest fundraiser, offering our life members the chance to purchase a PAVER to be laid in front of our new change rooms,
I hope some of our life members take up the offer,Anthony Simpson also gave a push for the sale of the Last Man Standing draw, First prize $5000 dollars.
Started off with Ian Coutts interviewing our senior coach Nathan Grima, it was great listening, and with three Grima brothers at the club, as all three brothers were drafted to A F L teams, Nathan was asked who was the better footballer, being very modest Nathan actually said their sister was the better sports person, it was a very interesting interview and as a lot of the life members had not seen our new change rooms,Nathan invited them to come in and listen to his pre game talk,we some did take the offer up.
The Luncheon followed and congratulations to the catering staff, the meal was cooked to perfection and there were only good words to be said by the life members.
Next the raffle thanks to Peter Walker for the Football tickets also Christine for the hampers and the bottles of wine and spirits,President John Elliott overnight stay at hotel, Mick Trevean two tickets in the $5000 draw, all the raffle winners looked happy.
Last but not the smallest was Coutts's interview with Richmond and A F L legend Dale "FLEA" Weightman, of great interest was how he handled having type "A" diabetes whilst playing football at the highest level, to keep playing every time he got tired had to eat jellybeans,yelled out for the trainer to bring out the jellybeans, unfortunately the rather large trainer had eaten all of the jellybeans, Played in Richmonds 1980 Premiership team and values the long standing friendships with the players of that team, took the premiership cup home to Mildura for his birthday, cup went missing had no idea who had it, got a message from the local catholic priest if he wanted the cup back had to come to ten o'clock mass to pick it up,I am sure the interview could have went all day, but time ran out, a great interview of a truly great footballer.
Last but not least thanks to all the helpers —
Steve Carey Tables and Chairs- Margaret Hamilton-helping with the preparation of the desserts and setting up of the room-Glenn Williams, Georgie and Lachie behind the bar – Ian Coutts for his flair and exceptional interviews- Nathan Grima and Dale "flea" Weightman for their time.
The committee Bruce Britter, Mick Duggan, Shane Gee, Peter Owens, Mick Trevean and Minute secretary Donna Whitehouse thanks for all hard work,
That's all folks see you in 2018
While we celebrated our reunion there was football played, another good weekend for the Strathmore Football Club with all four teams winning.
Thirds won beating old rivals Keillor 7-10=52 to 5-7= 37 Third on ladder
U/19 v Pascoe Vale 14-11=95 to 7-12=54 Second on ladder.
Reserves v P/Vale. 19-12=126 to 4-6=30 Third on ladder.
Seniors. V P/Vale. 10-14=74 to 10-9=69 Fourth on ladder.
Next week Queens Birthday Weekend no local football.
Next game 17th June v West Coburg Away-Shore Reserve -West Coburg..
---
Round 7 V Abers 27/05/17
Another great day on Saturday with all teams winning,our third open age team beat Westmeadows at Westmeadows 17-6=108 to 7-2=44, they sit second on the ladder.
We welcomed Aberfeldie to our home ground on Saturday in which we hoped to be three competitive games,got to the ground halfway through the first quarter of the U/19s with us holding a slight lead, we led all day and in the end held on for a eight point win 10-6=66 to 8-10=58, we are now sit second on the ladder.
The Reserves and Abers were fourth and fifth separated only by percentage so a close game was anticipated and that's what we got with us winning by five points, the game was of high standard with the difference being the goal kicking of Athan Tsailtas who kicked six goals for the second week in a row.
Scores 8-7=55 to 7-8=55.The reserves are fourth on the ladder.
The Seniors were facing the undefeated and top of the ladder in form Aberfeldie, if we can continue on from last week, show the same toughness around the stoppages and more importantly convert our chances into goals we are in with a chance, two changes in Purcell and Condon(first game this year) out Ingelton(injured) Reddick(back to U/17 after a good showing last week).
We kicked with the aid of a cross wind favouring the clubroom end, it was a fluky wind but worth three to four goals, we did take advantage of the wind kicking six goals to one,Alex Grima was on fire kicking five of our six goals.
Scores 6-2=38 to 1-2=8
Second quarter, could we keep them out and lead at halftime, we did for half of the quarter but like good teams they kept coming and while our six in the backline tried their butts off and out on ballers kept the pressure on at the stoppages we went in at halftime one point in front 8-2=50 to 7-7=49
Third was a repeat of the second quarter, halfway through the quarter only one goal in front, then our small on ballers started winning the hard ball creating opportunities in our forward line and added three more goals while keeping them goalless for the quarter,the supporters could sense something big was going to happen. 12-4=76 to 7-10=52
Final quarter, was our four goal lead going to be enough IT was answered in five minutes won the first three centre clearances kicked ball long into open forward line, three strong marks, threes goals,SEVEN goals up and looking good BUT they are not on top and undefeated for nothing and they came back hard but we were not to be denied and ran out winners by forty nine points.
We kept them to one goal in the second half.
Scores Strathmore 17-7=109 to 8-12=60
Best – You don't beat the top team by eight goals unless every team member plays his part and that's what happened today a GREAT TEAM EFFORT.
Our six in the backline stood firm all day repeatedly driving the ball forwards,our forward line lead by Alex Grima (6 goals) was hungry for the ball all day and fought to keep the ball in our foward line, our on ballers were tough and relentless at the stoppages and our centreline was prepared to run both ways and help the backline out.
Goals – A Grima(6),T Grima(2), Gleeson(2),Rae,Condon,o'Loughlin, Butler,Iaccobucci, Holman,and Cachia( 1 each )
Next week Pascoe Vale at home( 2 in a row at home)
Come on down and support the MIGHTY MORES
---
Round 6 V EDS 20/05/17
We journeyed down the road to Buckley Park to take on Doutta Stars, they are above us in all grades, so it was a day where we had to bring our best football forward for all teams keep in touch with the four,WHICH we DID
Great day for the Strathmore Football Club on Saturday with all four teams winning the"A" Threes by Twenty goals,U/19 by Eight goals,Reserves by Four goals and most importantly our Senior team by Six goals.
Three changes in Firrito,Ingelton and Ben Reddick ( up from the u/17 for his first senior game) Out Purcell,Leathers( inj) and Tsailtas.
The game was played at a blistering pace all day with both teams playing on at all times, they were causing us some headaches around the stoppages with their quick handball which enabled them to deliver ball further upfield but we withstood the challenge and when we got the ball moving into our forward line, if our talks didn't mark and convert, they brought it to ground and our smalls gathered the crumbs and scored with the result we led by fifteen points at quarter time
Scores 5-5=35 to 3-3=21
It was a swirling wind and possibly favouring the end they were kicking too, they kicked the first goal in the first minute and didn't their supporters go ballistic, but our backline stood firm and also created run into our foward line and like the first quarter we converted on most occasions, with the result we led by twenty points at halftime, unfortunately we lost young Ingelton to injury in this quarter he took no further part in the game.
Scores 10-8=68 to 7-6=48
The third quarter was a repeat of the first half with both sides still going at a frantic pace but we were relentless in our attack on the ball and the opposition and at three quarter time led by Thirty one points.
Score 13-9=87 to 8-8=56
Last quarter, more of the same, u/17 player Reddick kicked a good running goal and was mobbed by all his teammates,it was goal for goal in this quarter, our six in the backline stood firm as the did all day, and as i said if our tall forwards didn't mark it they brought it to ground so our smalls got the crumbs, all of our onballers kept going all game and were always willing to run both way,OVERALL a terrific team effort and we ran out winners by forty points.
Final scores 18-12=120 to 12-8=80
No best players, today it was a first class TEAM EFORT, great to see all of our recruits starting to find their feet with Firrito, Cachia, T Grima, Lower and Jarrad all playing well and this is flowing on to all the players, as you can tell this supporter is getting excited.
Goals McIntosh(4), Horne, O'Loughlin,Butler,T.Grima,A.Grima(2each)
Firrito,Cachia,Iaccobucci,Redick( 1each)
We are now sitting third on the ladder that's the good news BUT next week we play Aberfeldie at home,IF we play with the same intensity as we did against Doutta's we are a definite chance.
Come on down ( be early) it will be a bumper crowd, come early and support the u/19 ( 9-30 start )and Reserves (Noon start ) Seniors (2-00 start) and
SUPPORT the MIGHTY MORES.
---
Round 5 V Craigieburn 06/05/17
We welcomed Craigieburn to Lebanon reserve on Saturday, they have not won a game this year, we have won one game, going by the weekly scores we should win comfortably but in football you never know.
Into the team came McIntosh (back from injury) and Todd Grima (first game in eighteen months) Out Firitto and McConville(managed)
Good to have two tall marking options up forward, if they didn't mark the ball they brought it to ground for our crumbers to swoop on the loose ball and kick goals.
First quarter we kicked ten goals to no score, this continued on for the rest of the game and we went on to win by thirty five goals, Craigieburn finally kicked their only goal in the last quarter.
Due to such a one sided win, no Best players or goal kickers.
Next week no football in the E D F L due to Senior Combined games.
Our next game is on the 20th of May v Doutta Stars away Cooper Street Essendon.
So come along and support the MIGHTY MORES.
---
Round 4 @ Avondale 29/04/17
Unfortunately woke up Saturday morning not feeling a hundred percent so did not go to the game, turned out to be a good day with the three teams winning.
Many changes again(7 this week) into the team came Mitchell Leathers,John Barnard, Athan Tsialtas, Xavier Allison, Alex Grima, Matthew Mc Conville and Luke Holman.
We journeyed to Avondale Heights to do battle, we are winless and they have won one game for the year, they have a couple of talls and unfortunately last week due to injury we lost our last two talls.
McConville and "Barny " have come into the team to put pressure on their talls and hopefully our onballers can benefit and give us first use of the ball and i have it on good authority that is what happened, Grima added pace and flair on the forward line(2 goals),Tsialtas (1 goal ) gave us a target up forward and Leathers,Allison and Holman gave us added pace all over the ground.
Only problem our poor kicking for goal, twenty six shots for only Eight goals, not being there don't know if the wind played any part in our bad kicking.
Final Scores S/more 0-5=5. 4-9=33. 7-14=56. 8-18=66
Heights 1-3=9. 3-4=22. 4- 9=33. 5- 9=39
Best(in no order -Halliwell, Iacobucci,Allison, Barnard,Holman
Goals – Knight(2), Grima(2) Butler,Iacobucci,Lower,Tsialtas ( All one each)
Next week Craigieburn at home,so come down and support the "MIGHTY MORES ".
---
Round 3 Vs Keilor, Good Friday
Good Friday and we take on Keilor at our home ground.
Welcomed into the team Nick Lower and Liam Weightman for their first games.
Went into the game with only two talls and unfortunately we lost one of them during the second quarter with a knee injury our second for the year, and we really struggled to stay in the game after that.
The first half was fairly even with new player Lower giving us good drive from the back flank and with Jarred we have two good left foot kicks out of the back line but they were too tall in their forward line and causing us lots of headaches. We were battling hard,putting our head the ball and no one could knock our endeavour and at half time were thirteen points down.
You know the old saying "you can't pull your socks up if you don't have any on",
well that was us in the second half, their talls got taller and unfortunately all though we battled hard, never gave up,they ran all over us in the last half kicking nine goals to two
Until we get some of our quality injured players back we will battle against the top teams.
Two highlights in the second half, First Liam Weightmans chase in front of their supporters,laid the tackle and won the free kick even their supporters clapped his effort,
Second-trainer and life member Sam LaRosa was SPRINTING? out to attend an injured player when he did his hamstring (or was it a heartstring) but true to the trainers code he never flinched and treated the player.
Next week Avondale Heights AWAY, they always give us a run for our money at their ground,so all you STRATHMORE supporters come along and show our BOYS how much we appreciate their efforts.
GO THE MIGHTY MORES
---
Round 2 At Greenvale, 08/04/17
Hi All
Ventured up the road to play Greenvale, made five changes from last week due to injuries,in were Hamish Mcintosh ,Matt Little, Karl Stuadt, Andrew Todorov and Matty McConville were in for their FIRST senior games.(both dads Mario and Danny must have been proud of their boys).
Went into the game with two inexperienced ruck men in Stapleton and McConville to do battle with their tall and experienced ruckman, both of them battled their hearts out and never stopped trying all day,WELL DONE
Five changes (All due to injuries from last week)Hamish McIntosh and Little added height to our forward line(which we didn't have last week)
McIntosh kicking Four goals but unfortunately Little went off injured in third quarter (the dreaded hammy injury,five in two games).Stuadt andTodorov added pace to the wings.
Won the toss and took the advantage of kicking with at least a four to five goal wind, we used the wind well and kicked six goals and kept them to one goal.We moved the ball quickly at all times resulting in McIntosh being one out near goals resulting in him kicking THREE goals,our backline was standing firm and kept driving the ball foward.
Our onballers were hard and tough around the packs resulting in our small forwards to kick three goals.A good quarter five goals in front BUT how we play in the second quarter will determine how strong the wind is.
Scores STRATHMORE 6-3=39 Greenvale 1-1=7
2nd – Our backline was keeping them at bay and due to strong teamwork around the packs resulting in goals to Knight and Allison and also keeping them to two goals we were still five goals in front BUT they were relentless in their attack on the ball and we conceded three goals in the second half of the quarter, and went in at halftime eight points in front.
Scores STRATHMORE 8-3=51 Greenvale 6-7=43
3rd -Last year at half time, same position, in front and looking okay, same result they came out and smashed us in the first ten minutes kicking four goals before we realised there was a game on.we were under pressure for the entire quarter BUT we were still having a red hot dip.A free to McIntosh for interference resulted in our only goal for the quarter.
Scores -Strathmore 9-4=58 Greenvale 11-11=77
4th- The conditions were terrible wet, cold and windy, our backs were to the wall how would we react, to our credit we served it right up to them with result they kicked two goals and we kicked one to Foulds.
Scores-10-6=66 Greenvale 13-13=91
Best – in no order – McIntosh,Iacobucci,Cachia,Todorov,Stapleton
Goals – McIntosh (4), Horne,Knight,Iacobbuci,Cachia,Allison,Foulds(all one each)
Next week we are playing KEILOR at home on GOOD FRIDAY
If we can get some of our injured players back and play with the intensity as we did this week we can knock off KEILOR,so come on down on GOOD FRIDAY and support the MIGHTY MORES.
---
Round 1 Vs Marby Park, 01/04/17
First game for the year playing Marby Park at home, what a disastrous start to the year U/19 lost 2-5=17 to 19-15=129/Reserves lost 5-5=35 to 12-4=76/Seniors lost 4-9=33 to 13-11= 82, cannot remember ever losing all three games to Marby Park before.
Bragging rights for the weekend go to Mick Devers who coached our third open age team to a win over Roxburgh Park on Friday night, Mick is DESPERATE for game officials to help his team out, any helpers see Mick or contact him at any time.
On to the Senior team, first report for the year and trying to stay positive but after our very poor showing that is hard to do, went into the game with a lack of talls,didn't help when we lost our captain and Coach in our first practice match when he did his knee OUT for the year also Hamish Mcintosh also out indefinitely.
To new players (3) Luke Jarrad, (6) Michael Firritto and (14) Jared Cachia, welcome to the STRATHMORE FOOTBALL CLUB, hope you and your families enjoy your time at our Club, All three at times showed that the have the ability to improve our team as the year goes on.
They were too tall all over the ground, which generally gave them first possession of the ball, at times this made us look slow and always under pressure, went in with one ruckman Sean Tighe and when he went off injured in the second quarter, we were in big trouble, three more injuries before halftime, meant we had no interchange in the second half of the game.
In the second half they kicked Eight goals to Two as we started to run out of fresh legs and they ran all over us.
Best Players – Luke Jarrad (in for his first game) tried hard all day in the backline, all other players showed glimpses at times, BUT we are in for a long year.
Goals – A Grima, M Purcell, T Gleeson, G Campbell all one each.
Next week GREENVALE AWAY, come along and support the MIGHTY MORES.
---
Annual Life Members Lunch – Report by Ken Pridham
Another great day was had on Saturday,with seventy people attending our annual life members reunion.There were thirty one life members in attendance plus family members representing life members who have passed on,we had two members who passed away this year,Allan Muir(ninety two years of age) and Hedley O'Brien(ninety six years of age)their sons Greg and Graeme spoke briefly about their contribution to the club.
Jeff Nickson was our earliest induction life member (1970) coached five junior premierships in the seventies ,other old life members were Terry(Stumpy)Brown(1978) first rover in the "B" grade premiership in 1973,Tom Cook(1978) Team manager in many junior teams,president of the famous G M C club,Tony Smith(1980) founder of the "MORE" magazine with help of Grant(Mantis)Edmondson(1974),Darrell Carpenter(1983),Darrell was Peter Owen,s stats man in the early eighties and takes credit for some of Peter,s success,lastly Ken Pridham(1982)now running the past players and life members reunion days.
Two new life members were inducted,first was Alistair Butcher,Michael Duggan presented Alistair with his medal and told of his colourful footballing career,his description of his football ability was spot on,more importantly it was help with his son's(Jake and Luke) junior teams that made this award more rewarding.well done Alistair.
Second life membership was to Peter Lord.Peter(Georgi)Owen presented Peter with his medal,Wee Georgis recollection of Lordies playing career was very accurate and to the point,he stated that when peter won his league B & F in 1981 the umpires got their numbers mixed up,also told of his contribution with the help of Corkie Carroll with his "on the couch " segments in the early nineties.Well done Peter.
Lunch was then served,I found my meal,was not up to it's usual standard.
Raffle next,prizes were donated by Christine Walker(hampers),Edmond Abbott(wine) a new sponsor in Napier Street,Troy Cuthbertson(Rydges Hotel)Mick Trevean(tickets for the $5000 draw) in all eight prizes,the club made $800 from the raffle.
Lastly ou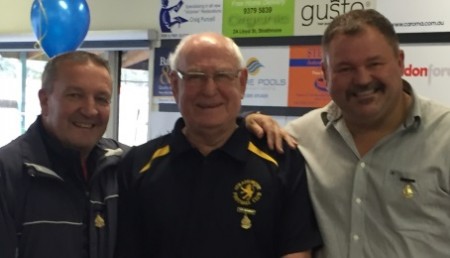 r panel of our living Presidents of the club,Robert Carroll,Robbie Ternes,Ross Higgins and John Elliott,who answered a range of questions in their time as president,the time and effort these gentlemen put in when they were in office was appreciated by all ,they are the reason why the Strathmore Football Club is in such a good position today.
Lastly thank you's,the life members committee,Donna for adding the women's touch,Margaret's help in preparing the cheese platters and sweets,Steve for preparing the room with the tables and chairs,to Beau and his young helpers behind the bar,young Paddy's help with the raffle and finally to all life members and friends who turned up to make this a memorable day.See you all next year,
---
Round 5 Vs Marby Park, 07/05/16
No match report this week:
Strahmore: 17.17.119
Marby Park: 15.7.97
Don't forget our Past players,committee and supporters reunion on 28th ofMay. To book email cleggo16@bigpond.com or pay at the door, cost $50.
---
Round 3 Vs Airport West, 24/04/16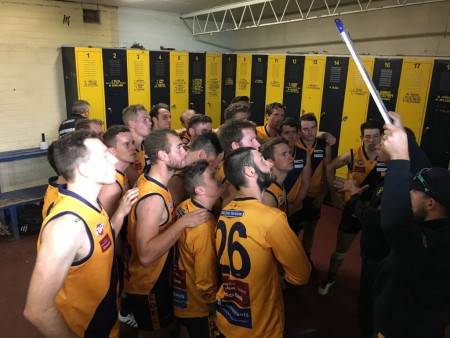 Playing Airport West at home,both teams without a win,could we get our first win of season 2016,again four changes due to injury,the injury list is nearly as big as our playing list,we welcomed four new players into the team,with so many changes every week,it must be hard to create a good game plan and to be consistent in carrying out that gameplan.
Kicking into the wind,we were first into attack,great tackle by Antonowitz in the centre of the ground got the ball to Little who passed to Purcell for our first goal.A great spoil in the back line by Grima saw Arrowsmith get the loose ball a long kick to the goal square,where Leech converted for our second,Corrigan hit Little on the chest with a excellent pass from the middle of ground for another goal,our backline well led by Grima and Campbell kept winning the ball and driving it into our forward line for Gleeson and Stuadt to kick goals to finish off the quarter.
Scores 5-5=35 to nil
2nd -Much like the first quarter we kicked five goals and kept them goalless,again a strong tackle by Antonowitz in the middle of ground led to Little marking but was offline for a behind,Corrigan and Grima combined in the backline to get the ball to Little another behind,strong play by the onballers in the centre got the ball forward to Little who finally put it through the big sticks.Leech used his pace to grab the loose ball and found Stuadt for another goal,Grima and Corrigan again combined well in the backline to find Little for another goal.Helliwell after some bad misses at goal finally found the big sticks for a goal,Gleeson goaled from a well earned free kick in the goal square.
Scores 10-10=70 to 0-1=1
3rd – Won the first centre clearance,Little kicks goal in thirty seconds,Leech and Purcell teamed well together for Helliwell who marked in the goal square and guess what he missed.Airport West were finally getting there running game going and finally registered there first goal,this seemed to stir the MORES up and we kicked three goals in the last ten minutes,two to Little,one to Rae.
Scores 14-15=99 to 2-2=14
4th – They went straight into attack and kicked a goal against the run of play,but this only fired us up and with Foulds and,Grima winning the ball and creating opportunities. for our forward lineup kick goals, Whillas was on the end of some good play kicking a good goal,Iacobucci was strong across half back,got the ball to Leech for another not to be outdone Little chipped in for three goals(nine for the game).To give us a twenty goal win – Scores 21-20=146 to 3-3=21
Best in no order – Little,Stuadt,Purcell,Grima,Stapleton,Corrigan.
Goals – Little(9),Leech(3),Stuadt(2),Gleeson(2),Purcell(2),Helliwell,Whillas,Rae(1 each)
Good to get a win,we do not play next week,with the break,we might get some of our injured players back to take on Maribynong Park at home on Saturday 7th of May.
Go the "MIGHTY MORES"
---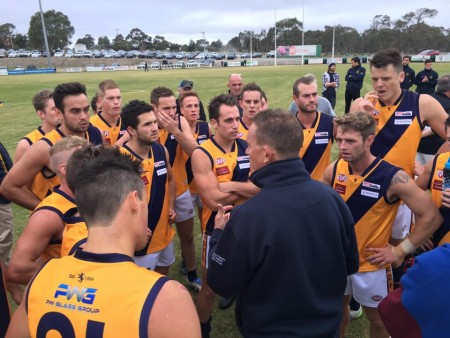 Round 2 at Greenvale, Saturday 16/4/16
Playing Greenvale away,could we improve on our poor effort last week,yes we did improve but not enough to get a win.
1st – We won the first clearance,straight into attack but could not score.We were hard at the ball and our ball movement was good resulting in Alex Grima feeding off to Sammy Leech for our first goal,strong play by Todd Grima in defence got the ball to Leech who feed off to A Grima for our second goal,we had a shot after the bell to level the scores but missed,five points down.
Scores – 2-4=16 to 3-3=21
2nd – Much the same as the first both sides kicking two goals,our pressure around the ground was first class, but from all our entries into our forward line we didn't put it on the scoreboard,Leech,Stuadt and Stapleton were prominent in this quarter with Gleeson and Lyons kicking our two goals.
Scores – 4-5=29 to 5-6=36 seven points down.
3rd – unfortunately we left our first half form in the change-rooms which resulted in them kicking three goals in the first five minutes,and for the rest of the quarter we chased bums and under pressure we butchered the ball,resulting in turnovers which led to them kicking two more goals,a five goal quarter to our goalless quarter,"GAME OVER"
Scores – 4-7=31 to 10-11= 71
4th – We came out firing,getting the ball into our forward line repeatedly with the result Leech kicked three goals but unfortunately poor field kicking in the middle of the ground resulted in turnovers and they made us pay with two goals.Scores 7-12=54 to 12-14= 86
Best(in no order)- Leech,Stuadt,A.Grima(until injured)T.Grima,Stapleton.
Goal kickers. – Leech(4),A Grima,Gleeson and Lyons one each.
Overall a much better effort than last week,except for the third quarter, there was only a goal in it all day.We were competitive and hard at the opposition and the ball,(BUT) same as last year under pressure our ball skills are very ordinary,with the result to many turnovers all over the ground and good teams will make you pay on the scoreboard.
Next week Airport West(at home)who are also winless,so come and give our boys all the support they deserve,congrats to the u/18 on there first win,well done to the boys and the coaching staff.
Life members keep the 18th June free in your calendar,invites out middle of May.
Past players,committee and supporters,28th may is your reunion, keep it free
Bookings are being taken "NOW"
---

Round 1 Vs Essendon Doutta Stars, Saturday 9/4/16
The official start to the season,we are playing Doutta Stars up from Division one,reports were they have recruited very well and we are in for a good game.
There were five changes from last week's team and while this maybe hurt our chances,we have to be honest and say we were outclassed in all facets of the game,the only highlight was Alex Grima's performance on our forward line,never stopped trying and kicked three goals.That's it no more comments on the game.
Scores – Seniors. 10-9=69 to 22-21=153
Reserves. 6-16=52 to 11-3=69
U/18. 4-4=28. To 22-19=151
A very ordinary day for the Strathmore Football Club.
Next week Greenvale at Greenvale u/18 9-30am,res 11-45am,seniors 2-00pm,
After last week,the players need all the support they can get,so come along and support the "MIGHTY MORES"
Past players/supporters reunion 28th MAY book your seat "NOW"
Life Members reunion 18th JUNE,invitation will be sent out late may,put the date in your diary.
Our U15 girls team had a walk over in their first official game,a win is a win but still would liked to play the game.
---

Round '4' at Keilor, Good Friday, March 25th, 2016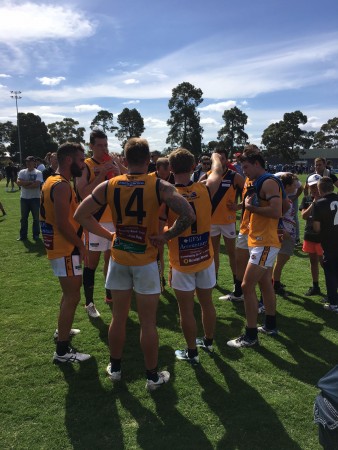 The start of season 2016 and we are playing Keilor at Keilor in the annual good Friday game.the reserves hit the front five minutes into the last quarter but they finished stronger winning by fifteen points.It was a great effort from our boys and the should be in for a good year.
The seniors started off like they finished last year,there attack on the ball and the opposition was terrific but our delivery of the ball to a team mate was not up to "A" grade standard.
For the first game of the year, the standard was pretty good,for the first three quarters, there was only a goal in it at any time,with ball moving up and down the ground at speed,unfortunately we lost our back up ruckman at half time due to injury and the extra workload on our onballers was evident in the last quarter,we hit the front five minutes into the last quarter but they kicked the last four goals to win by twenty three points.
On our effort in this game,I reckon we are in for a good year,when the new players settle in,I am sure as a team we will be very competitive against all comers.
Our new recruits,all showed they have the talent and skill to take us a long way in season 2016.
Best players – McIntosh,Helliwell,Iacobucci,A Grima,Gleeson.
Goals- A Grima(5),Gleeson(2),McIntosh,Arrowsmith,Lyons,O'Keefe,Stapleton all one each.
No games next week,the season officially kicks off on Saturday 9th of April,we are playing Doutta Stars at home,so come on down to Lebanon Park and support the "MIGHTY MORES"
---
2015
Round 18 V Aberfeldie, Saturday August 22
Last home and away game playing Abers at home.
U/18 served it right up to Abers,it was only in the last ten minutes that they kicked two late goals to seal the win.the u/18 finished seventh with five wins and showed improvement in every game,well done to coaches and players.
Scores – 8-6=54 to 11-9=75
Reserves,fourth against second,we could not improve our position but a defeat could see them fall to third and that's what happened with strathmore running away with the game by six goals,a strong finish to the season and we go into the finals in good form.
Scores 13-4=82 to 7-6=48
We will play Abers again next week, do not know where or when they will play, they will be our only team playing, so get along and support our boys,all the best to Ben,Jack and the boys.
Go the MIGHTY MORES.
Seniors finished off the season with a loss to the undefeated top team,we were never in the contest,again could not fault our endeavour but our overall skills let us down.
We finished where we should have finished,while disappointed in missing the finals,for the players we had,we had a reasonable year,Well done to coaches and players.
Scores – 7-10=52 to 21-20=146.
Going away for a holiday on Tuesday,so no report next week,hopefully the reserves win and will be back to report on the prelim final.
---

Round 17 at Greenvale, Saturday August 15
The week end started off on Friday night with our third open age team playing Keilor in the grand final,they were undefeated and we were playing them on there home ground,a big ask.Stroke of genius from our president,enabled our coaching staff to be positioned on their normal side of the ground,it definitely upset their train of thought.
With Beau Carey on fire on the forward line(kicking four of our five goals),with two old timers in Ben Goggins and Nathan Hallinan leading the way with their talk and experience,we kept them to one goal in the first three quarters,the steady rain made good football hard to play,we played the conditions better than them,being first in for the ball and playing good team football,we managed to hold on and win by ten points.
Scores – 5-5=35 to 3-7=25
Best – Cooke, Carey, Goggins, Pollock, Hallinan.
Goals – Carey(4), Jordan(1).
I have it on good advice that successful team manager "SMOOTHIE" is leading the celebratory drinking contest very easily,well done to coach Zac Carey,all his helpers and his team on their success this year.
On Sunday we had five junior teams in grand finals for three wins,the premiership winners were,u/10 Division one,u12 Division one and u16 Division four, congratulations to players,coaches,parents and supporters.Commiserations to the u/14 Division one and u14 Division three teams who lost,but also well done to players,coaches,parents and supporters.
On to Saturday up to Greenvale,season is over for the u/18 and seniors,the Reserves are fourth and playing the third team,neither side can improve their positions,but as we meet again in two weeks in the finals a win will boost our confidence,which we did,unfortunately the u/18 were beaten by a better team but they never gave up,
Scores – 9-4=58 to 21-14= 140.
Reserves won an entertaining game by six goals finishing all over the opposition in the last quarter.Scores – 12-4=76 to 6-7=43,we had nine different goal kickers.
Seniors – In the first quarter kicked five goals,last quarter kicked five goals,in the second and third quarters only kicked one goal.Been the story of our season so far, at times brilliant other times very ordinary,again on Saturday could not fault our endeavour for the ball.Scores 11-8=74 to 15-14=104.Little kicked five goals.
Next week at home last game vs Aberfeldie,so come down and support the MIGHTY MORES
To all life members,I asked you at our reunion to put pen to paper and send in your bio,I have updated mine and it is now on the website,to read it,
GO TO OUR WEBSITE – THEN HISTORY -THEN LIFE MEMBERS – PRESS MY NAME(PRIDHAM)AND MY BIO WILL COME UP FOR A READ.
thats how easy it is so come put pen to paper and put it on our website.
---

Round 16 Vs Northern Saints, Saturday August 8
Our third open age team played their prelim final against Greenvale at Greenvale on Friday night and were victorious winning 8-8=64 to 5-9=45,Beau Carey and Liam Jordan were our goal kickers,Lawless,Cooke and Goggins were in the best players,we now play Keilor in the grand final,don't know where or when yet,will let you know later in the week,all the best to Zac and the boys,go the "Mighty Mores".
Saturday we were home to Northern Saints,none of there teams have won a game all year and nothing changed on Saturday.u/18 won 30-11=191 to 0-1=1,reserves were leading 10-5=65 to 0-0=0 at quarter time when they decided to forfeit the game,seniors also won easily 38-12=240 to 3-16=34.
Best – Little,Leech,Rule,Stapleton,Allison,Campbell.
Goals – Little(14), Winter(4), Van Meel(3), Allison(3), Sikora(2), Horne(2), Corigliano(2), May, Arrowsmith, Staudt, Leech, Rae, Butler (1each)
Due to our life members reunion being held,there is no match report on the games,a report on the reunion will follow shortly.
---
Round 15 @ Avondale Heights, Saturday August 1
Firstly congrats to our third open age team coached by Zac Carey who won their first semifinal defeating Taylor's Lakes 12-10=82 to 2-4=16.Beau Carey kicked five goals,Liam Jordan kicked four goals(both taking after their dads,both good footballers in their own right).
They play Greenvale next week,don't know where or what time.
All the best to Zac and the boys.
Got to Avondales ground on Saturday just in time to hear our u/18 singing the club song after a good win.15-15=105 to 9-15=69,well done boys,
The reserves had a convincing win 23-12=150 to 6-0=36,we will finish fourth,the last two home and away games are against the second and third teams,so our fate will be in our own hands.
Watched the seniors till half way through the second quarter until the cold weather got to me and I went home,we were two goals down at quarter time and lost by three goals in the end.In the part of the game that I saw,nothing has changed,our poor disposal and turn overs killed us.again could not question the effort or the desire to win the hard ball,but we let ourselves down with poor use of the ball.
Scores S/more 4-2=26. 10-7=67. 12-8=80. 15-12=102
A/dale. 6-3=39. 11-6=72. 14-9=93. 18-13=121
Best Horne,Knight,Iaccobuci,Leech,Campbell
Goals. Knight(3), Little(2), Allison(2) Wellington(2), Foulds(2) Winter, May, Grima, Taglibue(1)
Next week Northern Saints at home,they haven't won a game and last week had forty four goals kicked against them,so hopefully we might have a big win.so come down and support the MIGHTY MORES.
---

Round 14 @ Keilor, Saturday July 18
Playing Keilor on Saturday,they are fourth,us fifth,so a only a win will keep our season alive,ALAS not to be,going down by four goals.we had a real dip and no one would question our endeavour,but as usual our decision making when we had the ball and our delivery of the ball to a teammate was terrible.
In the middle of the second quarter,we led by two points but then we turned the ball over four times,result four goals to the opposition,game over.
Scores S/more 2-4=16. 4-5=29 7-6=48 8-10=58
Them. 4-1=25. 8-3=51 10-5=65 13- 8=86
Best Horne, Knight, May, Iacobucci, Campbell.
Goals Knight(2), Grima(2), Winter, Iacobucci, Wellington, Butler(1each).
Next week seniors and reserves have a bye,but our third open age team are playing at home,so come down and support our battlers.
RSVP for the life members was good from last week's plea,but there are still eighteen life members have not responded,need to know by this Thursday for catering purposes.
---

Round 13 V Pascoe Vale, Saturday July 11
With our season on the line we needed a win today,a loss and possibly season over.
They sit third on the ladder and coming off a nine goal loss last week,we knew they would be determined to avoid another defeat,our form of late has not been first class so we have to lift today,we welcome new player today Josh Helliwell and four other changes from last week's side.
First quarter it was goal for goal and we were having a red hot go,but they kick two goals in the last few minutes to lead by fifteen points.
Second quarter was a stalemate with them outscoring us by a goal.
The second half our poor kicking for goal came back to haunt us from seventeen shots for goal we kicked seven goals,from twelve shots they kick eight goals.in the third quarter, US seven shots two goals five behinds THEM seven shots six goals one behind,but poor kicking is poor football and we only have ourselves to blame.
Positives out of the game,new player Helliwell showed he will be a good prospect also kicked four goals,Van Meel kept there top goal kicker to one goal,Stapleton was consistently spoiling there tall forwards,Horne and Allison were good at the contests.
Scores-Strathmore 3-2=20 5-5=35 7-10=52 12-15= 87
P/Vale. 5-5=35 8-9=57 14-10=94 16-13=109
Best – Helliwell,Stapleton,Horne,Van Meel,Allison.
Goals-Helliwell(4),Grima(3),Knights(2),Little,Iacabucco,Rae(1each)
Next week Keilor away,there are fourth,we are fifth,so to all our supporters come along and support the "MIGHTY MORES".
To all life members,two mistakes on the invitation
One-we are playing Northern Saints not Greenvale.
Two -RSVP should be Thursday 23rd of July,not 12th of July.
Sorry for the inconvenience.
The life members committee will be meeting on the 23rd of July to finalise on the catering,and the running of the day,so PLEASE can we have your RSVP by then.
---

Round 12 @ Airport West, Saturday July 4
Journeyed to Airport West on Saturday,they have only won one game,so expecting to win the game comfortable,but like last week not to be,while we finished up winning by six goals,it took us until well into the third quarter to stamp our authority on the game.In the first quarter we had ten shots at goal,result no goals,eight behinds and two out of bounds on the full,the scoreboard did not show how well we played.
Second quarter,nine shots on goal for three goals,in the second half we corrected our kicking to kick eight goals and six behinds to run out winners by six goals,only short match report due to rain and freezing wind,sat in the car all day.
Scores Strathmore-0-8=. 8 – 3-14=30 – 7-16=58 – 11-20=86
Airport West – 2-3=15- 3- 9=27 – 4-14=38 – 5-17=47
Best – to hard to pick from sitting in car.
Goals- Grima(3)Knights(2)May(2)Mitchell,Leech,Bramley,Kennedy(1each).
Next week Pascoe Vale,last time we played them they had twenty more shots than us,this week Keilor beat them by nine goals if we lose this week,our finals hopes disappear.
So to all our supporters get down to Lebanon Park next Saturday and cheer on the mighty "MIGHTY MORES".
To all our life members you would have received your invite to your life members reunion last week,so send your RSVP,ASAP,have received nine affirmative replies and four who unfortunately cannot make it.Come on make the effort.come along and make it a good day.
---
Round 11 @ West Coburg, Saturday June 27th
Trying to say something positive about Saturday's against West Coburg is proving very difficult.Our first ten minutes was terrific,three goals into the wind,won the hard ball in the middle,fast play on football and straight kicking.then we played like we have for most of the year,terrible field kicking,lack of run and most importantly our teamwork was non existent,on the positive side we still had a go,but our poor kicking put us under unwanted pressure.
Eight points in arrears at three quarter time but kicking with the strong wind,I was quietly confident that if we played like I know we can play we would deliver and we did,we won most stoppages,ran on for the next possession,delivered the ball better to our forwards,with the result six goals to one to run out four goal winners.
But let us not fool ourselves,if we play like that against the good teams we will be thrashed like we were earlier in the year,hopefully we will show some improvement and push the top teams.
Scores -Strathmore 6-4=34 9-5=59 10-6=66 16-13=109
-West Cob. 5-2=32 7-3=45 11-8=74. 12-11= 83
Best – Purcell,after that it was a raffle with players floating in and out of the game.
Goals – Purcell(4),Knights(2),Winter(2),Leech(2),Kennedy(2),Horne,May,Arrowsmith,Grima,Allison(1each).
Next week v Airport West away.
Will be sending out the invitations late this week for our reunion on the eighth of August,so make sure you keep that day clear on your calendar.
---

Round 10 Vs Marby, Saturday June 20, 2015 by Ken Pridham
Took on Maribynong Park on Saturday,they are a game in front of us on the ladder so a win was a must.They kicked to the clubroom end which turned out to be the scoring end,the first quarter was a scrappy affair but we managed to out score them three goals to two, this proved to be the winning quarter for us, as we kicked six in the second. They kicked five in the third and we kicked six in the last, showing how important
that first quarter was in the end, it was a scrappy game all day with both sides struggling to play good open football, but in the end we run out comfortable winners by seven goals. Little was a vocal point at full forward kicking six goals while Grima floated in and out to snag four, Sikora put in all day, Staudt played on their attacking wing all day and delivered, Rae and Iacabucco where consistent winners around the ground.Scores
Strathmore 3-3=21 9-10=64 11-10=76 17-12=114
Marib Park 2-2=14 4-5=29 9-9=63 10-11=71Best-Little, Iacabucco, Staudt, Grima, Rae
Goals-Little(6), Grima(4), Winter(2), Horne, Knight, Staudt, Purcell, Kennedy(1each)
Next week West Coburg at Coburg City oval, another win is important so get along and support the MIGHTY MORES. Supporters don't forget the auction night on July 18th.
Life members don't forget the reunion on August 8th v Northern Saints,invitations will be sent out early next week,we have some life members who haven't attended a reunion yet,come on,make the effort to come meet some of your old team mates.
---

Round 9 at Abers, Saturday June 13, 2015 by Ken PridhamWe journeyed down to Clifton Park to take on the undefeated Aberfeldie who have defeated every other side comfortably and the way we have been playing,nothing suggested that would change.in the end we where defeated comfortably we did put up a very good showing for three quarters,until they overran us in the last quarter.
In the first quarter there were nine goals kicked(unfortunately seven by them).for the quarter there were nine centre bounces and we won the clearances eight to one,but our poor delivery of the ball(again) saw them run and run the ball out of our forward line time and time again and with precise kicking skills rammed the ball down there forwards throats.
Second and third quarters we matched them in all the skill areas,but could not bridge there quarter time lead of five goals,but we did have a red hot dip.
Last quarter and unfortunately they over run us to run out easy winners,but again we never stopped trying and if we can take that attitude into the second half of the year we will give our supporters something to look forward too.
Scores. Strathmore 10-9=69 def by Aberfeldie 20-16=136
Best(in no order) Horne, Mitchell, May, Sikora,Tagliabue
Goals Sikora(4), Grima(3), Mitchell, C.Wilson, T.Wilson, Tagliabue (1each)
Next week Maribynong Park at home,they are above us on the ladder,so a win is important,so get down and support the MIGHTY MORES
To all life members,if you do not have us on Facebook go to strathmorefc.com.au scroll down the right hand side and register on to THE GRIFF and you will get all the gossip on your club.
---

Just received these photos, they were taken at the senior practice match at Ocean grove earlier in the year. Three of the people I coached in our U/13 in 1972, this is our first meeting since, 43 years ago! The three players are from the left a friend of the players, Craig Atkinson, Peter Molenkamp and John Dodd they are all good friends with Mick Trevean. I am sure they would of interest to some of our earlier members.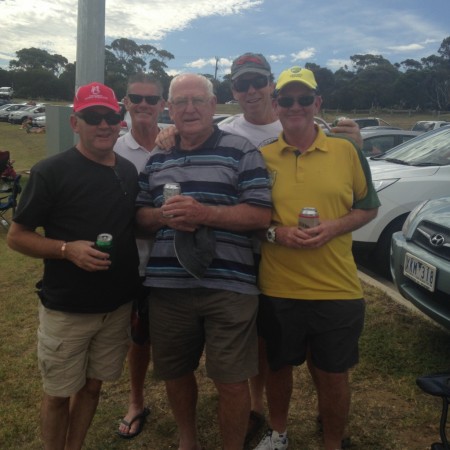 ---
Annual Reunion – Report by Ken Pridham
After all the welcomes were attended to,a special mention to Donna for her decorating of the tables, they looked fantastic as you walked into the rooms.Lunch was served, roast chicken and salad washed down with a good red wine or the popular stubbie.
Our reunion was attended by approximately one hundred people,premierships relived were 2005 A grade(coached by Craig Hille),2005 u/18( Brendan" salty" Trebilcock,1995 u/18 ( Pat Mackie) and from yesteryear 1985 A grade reserves( Ian Fletcher).
Some great moments relived by all the coaches,Craig told how far he travelled to get the team he wanted,then coming from fourth on the ladder to make the grand final,then at full time a draw,five minutes each way to finally win the premiership,Brendon being appointed two weeks before the season started due to the previous coach being transferred interstate,started slowly but finished the season as premiers.Pat Mackie in his usual laid back style told how their season unfolded to win the premiership,Ian Fletcher trying to recall thirty years ago could not decide who was best on ground between big John Anderson or "wee"Georgie Owens,seeing BIG JOHN wasn't there wee Georgie got the vote,Mick Trevean kicked three goals at full forward and how Craig(legs) Leggo got lost in between them.
Next was the comedian "LEHMO"who had everyone in the palm of his hand, never seen Alistair(BUTCH)Butcher laugh so much,maybe we could get lehmo to do Mantis's column.
Brad(trigger)Tregear then got the auctions moving,was hard to get everyone's attention,don't no the final result of the auction's,but am sure it was a good one.
We had two raffles,crayfish won by Graeme May,the money won by Craig Hille.
Shortly after the game finished I got a lift home,my tired old legs had worn out,
But the reunion carried on with the musician keeping the crowd happy and pizza slices at 6-60,heard on the grape vine the club shut at 10-30. Thanks to all the people who helped clean up the clubrooms.
---
Round 7 at Northern Saints, Saturday May 23, 2015 by Ken Pridham
We are coming off two bad defeats,they haven't won a game.so decided to have an easy day, no kick to kick comments,just an overall comment on the game.
Game started they kicked the first goal but we steadied and kicked the next five,a good quarter.
Second we had the scoring end,it was an even battle,five goals in front at half time.
At half time my grandson(Chris) and I went into their club rooms to have a drink with one of our golfing buddies who follows the saints.
While watching from their club rooms,they come out in the third quarter and kicked eight goals to our one,they were up and firing and we were flatter than a panman's hat.
And they went in two goals in front at three quarter time,was an upset on the cards.
Last quarter and the cream came to the top,Iacobucci kept winning the ball in the centre square to drive it into the forward where Winter(4 goals), Knighta(4 goals) and Grima (3 goals) led us to kicking eight goals for the quarter to win by twenty one points.
We did get the win but not in the manner we would have liked.
Best in no order – Knights,Winter,May,Iacobucci,Grima.Leech.
Goals – Winter(4) Knight(4) Grima(3) Rae(2) Leech(2) Whillas, Tagliabue, Purcell, Butler, Campbell, Corigliano (all one each).
Next week there will be no match report due to the past players reunion which I will be attending,if any one out there would like to attend the reunion,turn up on the day( noon start ) $50-00 admission I will be on the door to greet you and I promise you a great day.
---

Round 6 v Avondale Heights, Saturday May 16, 2015 by Ken Pridham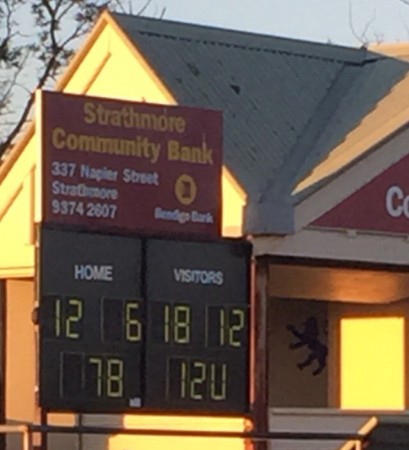 We sent our best(available) twenty two players out to do battle against Avondale Heights on Saturday and unfortunately we were not good enough,while our general football skills are letting us down our endeavour is still good.In six games this year I don't think we have fielded the same team twice week to week,again on Saturday three changes from the last game and this does not give you consistency in your game plan and the way you would like the team to play.
So I am pleading with our supporters,be patient with the team,we have at the moment they are giving there best but until we start getting some of our better players back we will struggle against the stronger sides.
Getting onto Saturday's game we welcomed Scott Whillas (65) (a top up player from Northern ),Luke Kennedy (41) (up from u/18s last year,who has been playing well in the reserves) and Jesse Corigliano (45) (up from the reserves),all three impressed at times with Luke kicking three goals in the first half.
There first two goals came from two poor kicks out of defence that found the opposition instead of a teammate,unfortunately this has been a common occurrence this season,we then came to life.beautiful delivery by Whillas found Leech at centre half forward spotted Horne streaming towards goal another great kick,goal to Horne.Great forward pressure got the ball forward where Kennedy took a pressure mark and converted,Again good forward pressure allowed Wilson to swoop on the loose ball and goal,another good passage of play saw Corigliano mark and convert,at the half way mark of the quarter we where now two goals up and playing good football,but then it returned to bite us on the butt,poor delivery of the ball under no pressure let them into kick three goals and we went into quarter two goals down.
Not much to right about in the second quarter,out scored four goals to two,both goals kicked by Kennedy ( three for the half ).
Started the third quarter with May kicking the first two goals,leaving us two goals behind could we keep going,while scoring three more goals they answered with four,to leave us eighteen points in arrears and kicking against the slight breeze it was going to be tough.
We battled the game out okay with them kicking four goals to our two and we went down by forty points.
Scores s/more 4-0=24. 6-0=36 11- 4=70 12- 8 = 80
Heights 5-5=35. 9-7=61 13-10=88 18-12 =120
Best -(in no order) May,Kennedy and Corigliano.
Goals-Kennedy(3),Winter(2),May(2),Wilson(2),Horne,Grima,Corigliano(all one each).
Next Saturday v northern saints AWAY get their and give the players the support they deserve.GO THE MIGHTY MORES.
---

Round 5 v Pascoe Vale, Saturday May 2, 2015 by Ken Pridham
Finding it very hard to find any highlights to write about from Saturday's game against Pascoe Vale,they doubled our score and had twenty more scoring shots at goal than us.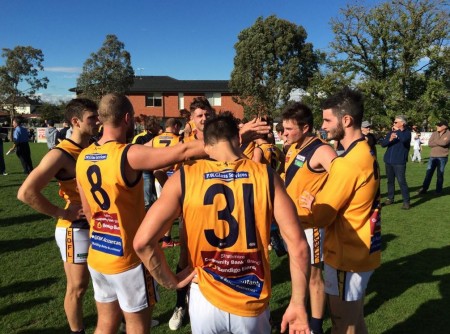 Kept writing down we won the ball,but poor disposal led to them getting the ball and generally this led to them scoring.our decision making when we had the ball was very,very ordinary.
It was hard to find a position where we broke even,I thought in the backline,Elliott,Campbell and Stapleton tried hard, in the forward line Grima
And Knighta also tried, but when they won the ball they were to far from goal to score. Onballers Sikora tried hard,Horne in for his first game for the year battled all day.
On the good side I thought we did have a go,there were a few scuffles during the game and we always flew the flag,when the hard ball had to be won we did put our bodies on the line,but all the grunt in the world does not make up for the lack of ball skills.
Scores Strathmore 7-7=49 P/vale 13-21=99
Best in no order Horne,Knights,Grima,Stapleton and Campbell.
Goals – Little(2),Winter,Pignolet,Purcell,Leech and Foulds (all one each)
From our seven goals,four were from free kicks,two from marks and one from a scrimmage in front of goal,in fairness to our forwards, the delivery of the ball from further up the ground was very ordinary.
Ran into mobba( michael o'brien) who can forget his goal to win the grand final in 2011,in there clubhouse at halftime,his comment was, the pressure they are putting on our players was first class.
No game this weekend,following sat 16th MAY play Avondale Heights away,so get there and cheer on the mighty "MORES"
---

Round 4 v Airport West, Saturday April 25, 2015 by Ken Pridham
Due to the very, very wet conditions,a very short report due to not being able to write anything down on paper.
James Schindler was in for his first game for the year, what a day, cold, wet and windy, a very muddy and slippery centre square made for a hard day at the office.We were first into attack and kicked the first three goals,but these conditions where sometimes skills are thrown out the window and good old blood and guts take over and that's what happened today.At times our running game was first class,with the result we kicked five goals in each of the first three quarters,to always be in control of the result.Just before three quarter time you could see that the skies were going to open up,so this budding reporter took the easy way out and went home and did not watch the last quarter,did not miss anything with both sides kicking two goals each,we run out winners by nine goals.
Best – Winter, Bramley, Grima, May, Purcell and Campbell.
Goals – Grima(4), Purchell(3), Winter(3), Sinnitt(2), Little, Staudt, Iacobucco, Bramley(one each)
Next week Pascoe vale away,so come along and support the mighty "MORES"
Ran into jeff nickson at the game and we were as usual talking about the old days,went home and on our new website (strathmorefc.com.au) read that jeff had coached five flags at our club, but no other history on him. So I am appealing to all life members can you put pen to paper and send a report on your envolvment at the club to Bert Werden at comms@strathmorefc.com.au so he can put it on the website.
Our website at strathmorefc.com.au makes for fantastic reading, so go do yourself a favour,check it out ASAP.
---
Round 3 v West Coburg, Saturday April 18, 2015 by Ken Pridham
Life member and club stalwart Grant (mantis ) Edmondson had the honour of unfurling the 2014 premiership flag before we played west coburg,who are coached by Digby ( Diggers ) Morrell who coached us to the 2011 premiership.

West coburg were coming off a big win last week,and while winning last week we weren't convincing,so how would today pan out.
We kicked into a possible two goal wind,they were straight into attack,strong play by Elliott and Stapleton allowed us to push the ball forward for Winter to mark and kick truly,strong play on the wing by ( nugget ) Foulds saw Winter mark and goal again,we then finished off with three more goals to Staudt,Sikora and Grima to hold a two goal lead at quarter time.Scores us 5-2=32 to 3-2=20
2nd quarter- we were struggling to get a clean break at the stoppages,we forced the ball forward were Leech swooped on the loose ball and kicked a good goal,strong running from defence saw Winter mark and goal again,strong attack on the ball by Leech deserved better than a behind,from the backline we turned defence into attack for Winter to mark and goal again,a great spoil by Stapleton enabled Iacobucci to win the ground ball and deliver the ball into our forward line,where you guessed it Winter marks and kicks his third goal for the quarter and five in the first half.Scores us 9-2=54 to 4-6=30
Eleven scoring shots to ten,but we are four goals up,they have the scoring end,could we maintain the pressure on them to stay in front at three quarter time.
3rd quarter – First ball up, ball spills to wing,Sinnott wins ball finds Little on the lead,who kicks the first goal for the third quarter,for the next fifteen minutes Bramley,Van Meel and Campbell were working overtime to keep them out but could not stop them kicking three goals to bring the game alive.not to be denied Little split the pack open for Staudt to crumb the ball for a team lifting goal,we were now working harder as a team and winning at the stoppages,Leech the took a good pack mark at centre half forward,hit Winter on the chest with a lovely pass.Winter kicked truly for his sixth goal and we were back to our four goal lead.Scores us 12-4=76 to 7-10=52
4th quarter- Sikora who was having a good contest with their ruckman,got the tap to Iacobucci,handball to Grima,handball to the running Allison who kicked a good goal,May won the hard ball and a fifty metre penalty deserved better than a behind,Purchell put his body on the line,won the hard free kick and kicked truly,we were getting on top and moving the ball like a good team should.good marks to Corigliano and Sikora,strong clearance by Mitchell,strong tackle by Foulds led to us kicking the last five goals,Little(2),iacobucci,Allison( second for the quarter)and May saw us run out nine goal winners.Scores us 19-10=124 to 8-14=62
Best (no order) – Winter,May,Leech,Elliott and Stapleton.
Goals- Winter(6),Little(3)Staudt(2)Allison(2)May,Iacobucci,Purcell,Grima,Leech,Sikora all one each.
Next Saturday Airport West at home ( two home games in a row).get down and support the mighty "MORES".
---
Round 2 v Maribyrnong Park, Saturday April 11, 2015 by Ken Pridham
Journeyed down to the river to take on Maribyrnong Park, it is always a tough and close game when we play them at their ground and today was no different, it was not till late in the last quarter that we sealed the win. Unlike last week when bad kicking cost us the win, this week their bad kicking helped us to a win.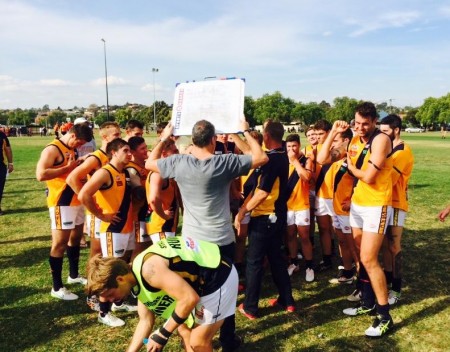 1st quarter – strong play by Leech and Mitchell in the centre got the ball to Winter to kick our first goal. Good clearance from the back flank saw Leech win the hard ball, handball to Pignolet another goal. a great smother by Staudt enabled us to clear the ball from the centre bounce, strong mark to Potter[goal].they were strong at the ball and running hard and they kicked the next three goals, scores even. we then answered the challenge and Mitchell got the ball to Leathers who from fifty metre's out kicked the goal. Excellent pack mark to Wilson deserved better than a point. a classy bit of play by Grima resulted in Allison kicking a good running goal, a strong pack mark to Corigliano saw him kick our sixth goal for the quarter. Scores 6-5=41 to 3-1=19
2nd quarter – they kicked two goals in two minutes and we were under the pump, we steadied, and through excellent team play, goals to Mitchell, Wilson and Sinnott, we had our three goal lead back, but a poor disposal in our forward line let them in for a easy goal, they then ran rampart and kicked four more goals, plus five behinds to take a fourteen point lead. Scores 9-6=60 to 11-8=74 [we had nine different goal kickers in the first half]
3rd quarter – they went straight into attack again but our backline well led by Campbell cleared the ball for Winter to kick a goal, their strong work around the packs was stopping our running game. Stapleton was creating run out of the backline, Grima swooped on the loose ball [goal].we started to run the ball[were they getting tired or were we getting on top]good teamwork on the wing, finished with Winter marking and converting[goal].May was leading from the front, won the hard ball, fifty metre penalty[goal].won the centre bounce, kicked forward handball from Wilson to Sinnott [goal].Pressure from our forward line, paid off and Iacobucci kicked our sixth goal for the quarter, while we kept them to one goal and we took a twelve point into the last quarter. Scores 15-6=96 to 12-12=84
With the aid of the wind, they kicked eight goals in the second quarter, we answered with six in the third, could we hold our two goal lead or would they kick a winning score.
4th quarter- we applied the pressure straight away. a strong tackle by Iacobucci resulted in a free kick[goal],poor manning up in the forward line gave them a quick break, but good play in the backline held them out. Good roving at a throw in by Grima[goal].they answered back with two goals, still two goals in front. Head down, bums up attacks on the ball by Staudt and Leech, great smother by Pignolet resulted in a goal to Grima. They came again but team lifting marks by Bramley, Campbell and Sikora and good running by Stapleton, Foulds and Elliott saw Corigliano take a mark, handball to Grima[goal] game over. Corigliano took another pack mark but poor disposal let them in for the final goal. Wilson finished the game like he started a great smother at the centre bounce. The bell went for a deserving fourteen point win. Final scores 18-8=122 to 15-18=108.
Best players – in no order IACOBUCCI,STAUDT,GRIMA,LEECH,CAMPBELL,SIKORA.
GOALS – GRIMA[4] WINTER[3] IACOBUCCI[2] SINNOTT[2] POTTER, MITCHELL, WILSON, CORIGLIANO, LEATHERS, MAY, PIGNOLET AND ALLISON[all one each] from nineteen goals twelve different goal kickers].
Next week West Coburg at home, get there and support the "MORES ".
---
Round 1 v Keilor, Good Friday, April 3, 2015 by Ken Pridham
ITS BACK, finally a footy game to watch, the smell of the liniment and leather in your nostrils, no better smell in the world, BUT nothing has changed since last year, we cannot kick the ball through the big sticks, twenty one shots to sixteen going down by ten points.
Turned up on Friday at Lebanon reserve [ Syd McGain Oval] to see us take on Keilor on our annual good Friday game, fine weather sometimes cloudy, sometimes sunny with a reasonable crosswind[worth two goals]blowing into the faces of the Strathmore faithful on Alby's Hill.
We welcomed four new players into the team DAVID MITCHELL, Callum Wilson, Simon Potter  and Michael Sikora also into the team for their first senior games were Nick Ingleton and Mitchell Leathers [Grandson of Life Member, Bob Leathers.
We were missing ten players from our grand final side last year due to retirements and injury, but you take the field with your best twenty two you have and unfortunately we came up short on the scoreboard.
We won the toss and kicked with the wind, they were straight into attack and despite strong play by Ash Arrowsmith and Simon Potter they kicked the first goal, good play on the wing saw Luke Pignolet mark on the fifty metre line he was thrown to the ground and given a fifty metre penalty, result our first goal in 2015. Sammy Leech swooped on the loose ball in the centre and found Matt Little on the lead who converted for a goal. Our new ruckmen Michael Sikora was having a sterling dual with their star ruckmen and was holding his own, strong work in our backline by Matty Elliott saw the ball in our forward and Callum Wilson or was it matt little snap a goal giving us a two goal lead. then in the twinkling of the eye we made two very bad turnovers in the middle of the ground, they swooped, two goals and at quarter we were 3-4=22 to 3-0=18 and they won the quarter.
2nd quarter – not much to write about in this quarter, except for our bad kicking for goal, we had five shots at goal for five behinds they had five shots for three goals two behinds. In the first five minutes Karl Staudt won the hard ball on three occasions and sent the ball forward but poor disposal let us down. Dale May was strong around the packs and took a typical gutsy mark in their back line, even though outscored in the quarter we held our own. scores us 3-9=27 them 5-2=32 . except for our bad kicking for goal, I feel we won the quarter.
3rd quarter – we marked at centre half back again at centre half forward resulting in matt little marking on the lead and converting to put us in front. but they answered straight away with two running goals into the wind to take the lead back, these two goals decided the game, as from here on in it was goal for goal. again we ran the ball out of their backline, again another behind. Matt little again marked on the lead and kicked truly to keep us in the game. Mitchell Leathers [up from the u/18s last year] won the ball on the wing took four bounces and in front of the Strathmore faithful shot for goal, allowed for the wind but as usual another point. Scores us 6-12=48 them 8-3=51 again I feel they won the quarter.
4th quarter – Michael Sikora started the quarter with two great pack marks, sent the ball forward only for another behind ,they kicked the first goal to extend their lead. we answered straight away through Adam Iacobucci who marked twenty metre's out and slotted the goal GAME ON again we marked within kicking distance you guessed it another behind. but not to be denied they kicked the last goal to run out winners by ten points. Scores us 7-14=56 them 10-6=66. due to our bad kicking they again won the quarter.
BEST [in no order] – Matt Littel, Dale May, Karl Staudt, Michale Sikor and [mention to the first gamers Nick Ingleton and Mitchell Leathers]
GOALS – [by my records I had Callum kicking a goal in the first quarter not Matt Little] my goal kickers are Matt Little [2] Alex Grima [2] Adam Iacobucci, Luke Pignolet and Callum Wilson [one each]
Our first game for the year and will it sticks in the craw[to lose to them]. I am sure our coaching panel will address what has to be done to win our next game against MARIBYNONG PARK at their ground next Saturday.
(Picture courtesy of the Herald-Sun)