Coach: Mick Devers
mickdevers@gmail.com
---
Premiers 2016!
Under the Friday Night Lights at Keilor, Zack Carey and our Senior Thirds got the job done for the second year in a row, overcoming an opponent playing on their home ground. Well done lads!
---
Premiers 2015!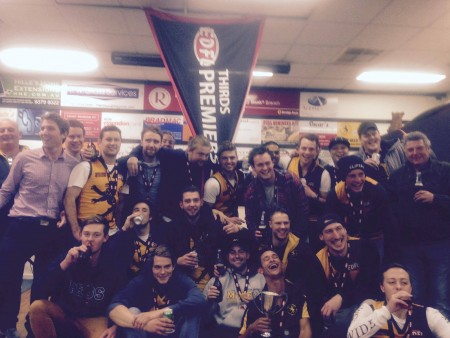 Ken Pridham reports that our third open age team played Keilor in the grand final. Keilor were undefeated and we were playing them on there home ground,a big ask.Stroke of genius from our president,enabled our coaching staff to be positioned on their normal side of the ground,it definitely upset their train of thought.
With Beau Carey on fire on the forward line(kicking four of our five goals),with two old timers in Ben Goggins and Nathan Hallinan leading the way with their talk and experience,we kept them to one goal in the first three quarters,the steady rain made good football hard to play,we played the conditions better than them,being first in for the ball and playing good team football,we managed to hold on and win by ten points.
Scores – 5-5=35 to 3-7=25
Best – Cooke, Carey, Goggins, Pollock, Hallinan.
Goals – Carey(4), Jordan(1).